Top Tips on Handling Freshers' Week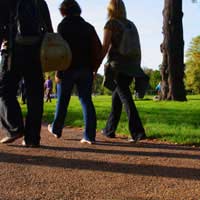 Fresher's Week is such an exciting time - it's the opportunity to join clubs, make new friends and get started in university life.
The problem is it can also be terrifying - huge rooms full of people you don't know, some that may become great friends and others that you will spend the next three years trying to avoid. You may join a club, part with your hard earned £10 only to find that 'playing hockey' is actually an excuse for drinking pints of lager.
All those social events laid on - 'wine and wine' evenings, discos and society promotions - are the perfect opportunity to see what you might like to be involved in for your next few years at university. Don't be concerned that you are committing to sticking with a club or society you don't like for ever - loads of people join up to clubs in Fresher's Week and never go to their meetings, so see what takes your fancy and join up.
See What's On Offer
Think of Fresher's Week as a way to check the lie of the land at university - pretty much everyone you come across will be in the same boat as you - not sure if they're wearing the right clothes, unsure of what to join, who are the cool people, who will you wish you hadn't befriended. This is the very reason that universities arrange all these social functions, or pretty much everyone would just stay in their rooms until lectures started.
So, here are some top tips to make your Fresher's Week as exciting as possible, without the stomach churning nerves and embarrassment.
When you move into your halls on the first day, prop your door open as you unpack and have some cool music on - perhaps have a pot of coffee, bottle of wine or cake available - so your fellow residents can see you are friendly and can say hello as they go past. This is a great way to break the ice and will make it more likely that you have someone to go to the events of the week with.
Be happy with your appearance - make sure you have clothes you feel good in and a haircut you're happy with before you leave home to go to university - it will make your first few weeks so much easier. Don't worry about every being 'new' or you will look like it's your first day of school instead.
Be prepared that the only topics of conversation for the first few days will be 'what A' levels did you get?', 'what halls are you in?' or 'what course are you on?' Some Fresher's Week events even give you tags to hang round your neck to write the answers on! Have a few amusing stories from your gap year or summer job.
Don't do anything in your first week that you will spend the next three years regretting - this could include getting in with a dodgy crowd, falling in love with the first person you meet or blowing all your money on something ludicrous. There is always someone who does these things - just make sure it's not you or you won't be able to enjoy university life to the full.
Accept that you will probably be homesick - don't go home in the first week. It does get better and you will not be the only one feeling it. By all means call your mum and have a cry, but don't do it everyday or it will get harder and harder to stay. And don't do it in front of everyone - take your mobile in your room.
Lastly, be proud of yourself - Fresher's Week is just a crazy start to what can be a very fulfilling few years. You've finished your A' Levels, have left home and are in a lovely half way house between being a child and an adult - enjoy it!
You might also like...