Nights Out on a Budget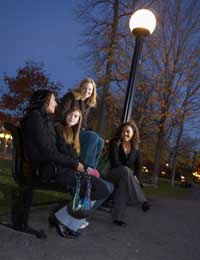 Sticking to a budget when faced with nights out at university is generally a good news/bad news subject. The good news is that eating and drinking establishments close to universities are generally affordable but the bad is that when you socialise several times a week (if not every night!) then your bills will add up quickly. Don't let this ruin your plans though. Nights out on a budget may mean curtailing your spending, but they don't mean curtailing your fun.
Become a Regular
Becoming a regular at a student friendly restaurant, pub or club near your university practically guarantees you VIP status. If you are looking for a champagne evening on a lemonade budget, get to know those who own or work at local establishments. Just a few of the perks you might garner include:
Free or discounted food or drinks.
Great seats, or seats when it is crowded.
Special dishes or drinks made to order just for you.
Entrance when there is a line, or tickets to a special event.
A part time job.
Take Advantage of Special Offers
Many student-friendly establishments offer special deals for students who can produce an ID card. Take advantage of these promotions and you'll be able to save a tonne of cash. Look out for:
Restaurants, cafes, coffee shops, pubs and clubs that advertise discounted rates for students.
Special offer cards or stamp cards that will let you accrue credit towards free items.
Buy-one-get-one-free deals.
Theme nights that bring deep discounts.
Festive events that advertise special offers.
Show Some Restraint
Of course, sticking to a budget is truly just down to you. Before you go out for the evening check your bank account balance and decide how much you can realistically spare. If the answer is nothing, think about staying in. Otherwise:
Take out in cash only what you decide you can afford.
Slip your taxi money into a separate section of your wallet to avoid spending it.
Leave your credit card and debit card at home to avoid temptation.
Tell your friends that under no circumstances are they allowed to loan you money.
Keep your dignity intact and don't beg for freebies or IOUs.
Flat Broke Fun
When you are flat broke and can't scrounge together even a couple of extra pence for an evening out, devise ways to have fun without spending extra money. Think about:
Hosting a DVD evening and asking guests to each bring their favourite film and a snack.
Organising a pot luck or progressive dinner in which each attendee contributes something.
Getting together some friends for an evening of cards or board games. Bet with truths or dares rather than money.
Staying in and getting yourself organised or buckling down for some extra studying.
Nights out on a budget may take a little more creativity and restraint than splashing the cash when you are out, but that doesn't mean that they will necessarily be less fun. Even if you can only afford a rare night out, remind yourself that it is better than nothing. Resolve to get some friends together for free fun on the other nights and stay within your budget when you do go out. Remember, if you look after the pennies the pounds will look after themselves!
You might also like...