Making New Friends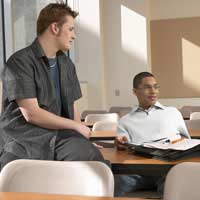 Starting university can be a terrifying time, not in the least because you'll be showing up at a new place to start a new life and you'll be doing it all on your own, without a friend in sight. Hopefully this situation will reverse itself in just a few hours when you begin to make friends who live nearby, are interested in the same subjects as you or join similar extracurricular activities as you. Unfortunately, no matter what it will take a certain amount of work to make new friends but as long as you are willing to be yourself and put yourself out there, you should have no problem making new friends.
Be Sociable
It may seem obvious, but many students forget that the best way to start any friendship (or even conversation) is to be sociable. While the challenges of life at university may make you want to shut your curtains and hide under the duvet, do whatever you can to avoid this situation. Instead:
Leave your door open in your hall of residence, inviting others in as they pass by.
Invite people living around you or taking classes with you to meals or for coffee.
Target at least three students in every course to chat with and exchange phone numbers. This will also come in handy if you need to miss a lecture.
Tag along if a bunch of students are going to a café or pub after class.
Try to accept any invitation that comes along in the first few weeks, unless your gut instinct tells you not to go. Always listen to your instincts about new friends.
Get Organising
A great way to make new friends is to organise activities for everyone. Not only will this make you the go-to guy or girl in the group, but it will mean that you get a chance to stay in contact with everyone as well. Consider organising:
A hall/flat/house-wide dinner for everyone.
A party to celebrate your first week/month/term at university.
A study group to get everyone talking.
A book club or film club to give everyone's brains a rest.
Tickets to the university theatre troupe or a sports event.
A second hand book sale or collection for charity at the end of each term.
Start Joining
If you aren't too sure about organising your own activities, start joining those that already exist at university. This will allow you the chance to meet students who might not be in your classes and it will give you other people to wave to or eat with when you see them around. Think about:
Trying out for university sports teams or informal "extramural" sports leagues.
Signing up for university clubs or societies.
Striving towards membership in honour societies or academic clubs.
Auditioning for theatre, dance or music troupes.
Taking up a part time job on campus.
Donating your time to university-affiliated charities or voluntary causes.
Making new friends at university can be a daunting prospect. The good news is that for the first few weeks everyone is in the same boat so you certainly won't be the odd one out. Be sociable, set about organising fun activities and investigate university opportunities to join or for which you can audition. The more activities you undertake the more people you will meet and the more chances you will have to make friends. Just don't forget your course work when you become the most social butterfly of the bunch!
You might also like...