Throwing a Successful Party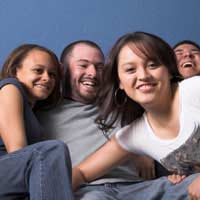 A milestone in every student's career is throwing a successful party. Parties can become the stuff of legend but only if they have been properly prepared and flawlessly pulled off. Don't even consider hosting a party unless you are willing to dedicate a good amount of time to the preparation, and you can expect to be vigilant throughout. Aside from that, get ready to have fun because it's time to party!
Prepare for the Party
Half of the success of any party is in the preparation. Suddenly running short of supplies, playing the wrong music or finding yourself stuffed into a corner because of the crowd, are all factors that can turn any party into a forgettable evening for many. In the week before the party, remember to:
Clean up, and clean out, the party site. Make sure you're laundry is put away, you've cleared out the piles of rubbish and the furniture is arranged to make circulating easy.
Think about how many people will realistically fit into your party space. If you expect more people to show up, post a friend at the door to keep count.

Check that your windows and doors all open. Parties have a way of raising the room temperature so make sure that you can keep everyone comfortable.
Put aside some songs to make a party mix. Try to fit several hours of music onto the list so that you don't have to worry about it once you turn it on.
Stock up on snacks. Easy party foods like pizza, crisps and sweets always go over well.
Make sure that you have enough drinks on hand. Buying in bulk will help keep your costs down, but try to get a good mix and always have non-alcoholic options available.
Secure an area for guests' coats and valuables. Make sure that there is a door to this room.
Be Vigilant Throughout
Once your guests start arriving, you must remain vigilant throughout the party to ensure that everyone has a good time. Keep your eyes open for:
Snacks or drinks that need to be replenished.
Crowded areas and the overall size of the crowd.
Guests who are alone or not mingling. Try to draw them into a conversation or introduce them to others.
Guests who are, or are not, dancing and whether or not a change of music is needed.
Arguments or fights. Ask friends to help you eject guests behaving inappropriately.
Guests drinking too much, vomiting, or otherwise in trouble. See if you can escort them home or if they need further attention.
Any female who looks uncomfortable, frightened or in need of help.
Throwing a successful party is a lot of hard work, but hopefully the outcome means that everyone has fun. Put in the effort to organise appropriately and prepare well, and on the night keep your eyes open to the comfort of your guests. Ask your friends to help out and share the burden and everyone should have a great time. Just remember that while partygoers are guests in your flat or house you are partly responsible for them at all times. Nip inappropriate behaviour in the bud and don't be afraid to call in reinforcements or professional help if needed. But when it all goes according to plan pat yourself on the back for a great party and a job well done!
You might also like...