Alcohol Free Fun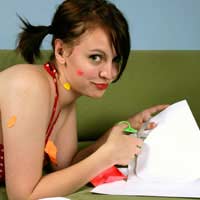 Whether you're tired of sore heads, have volunteered to be the designated driver or have sworn never to touch a drop for as long as you live, it can often feel like you are the odd one out if you aren't drinking. If you've made the decision to keep your next weekend alcohol free, give yourself a pat on the back and then get busy planning some alcohol free fun! No idea what to do? Why not try:
Cooking a hearty meal for your friends
Going to the cinema.
Catching up with friends from home via a long letter, phone call or email.
Starting a new hobby – decoupage, anyone?
Driving to a scenic spot to watch a sunset, or sunrise.
Stay up all night talking to your friends or someone you have a crush on.
Hosting a movie marathon with complementary snacks.
Organising a midnight, moonlight football game.
Mixing up a few mock-tails and hosting a disco to rival Top of the Pops.
Taking advantage of the quiet to do some studying.
Cheering on a university team at a sporting event.
Scouring the local paper for unusual activities.
Overcoming your fear of heights by going rock-climbing.
Chilling out with a new yoga or meditation class.
Planning a day trip or mini-break that you can soon make a reality.
Working a few extra shifts to save up for your big plans.
Volunteering at a local hospice or care centre.
Organising that one project you've always wanted to see through.
Checking out a local after-hours zoo programme.
Popping into the gallery or exhibition you've always been meaning to view.
Getting a group together for an ultimate sodoku challenge.
Gritting your teeth and play Monopoly until the very end.
Giving your life a makeover, starting with a To Do list and a changing the sheets.
Catching a great undiscovered act at a local club.
Going to the theatre, darling.
Writing up a CV and cover letter – you'll have to do it some time.
Operation Makeover: dye your hair, pluck your brows, paint your nails, even if you're a guy!
Getting away from it all with a daytrip to the country. Or even a night under the stars.
Catching up on sleep. Lots and lots of sleep.
It can be hard to jump out of the party cycle and take some time for yourself, but declaring a weekend for alcohol free fun might be just what you need to shake up your routine and stay in top form. Whether you want to enjoy your time alone or persuade some friends to join you, alcohol free options abound. Publicise your plans or keep them to yourself, the choice is yours but committing to the weekend, or even evening, is the important thing. Just remember not to knock it 'till you've tried it – you might just end up making these weekends a regular fixture on your social calendar!
You might also like...