Remaining Professional at Office Parties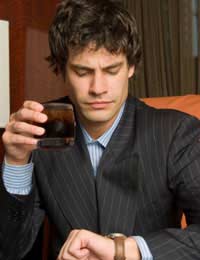 When there's an open bar, free nibbles and loud music it can be hard to remember that you are still at work, but that's exactly the case at office parties. Though the venue has changed the rules remain the same. In fact, office parties can be even more vital to your career than the last three days you've sat at your desk. This is due to the networking opportunities and the chance to show off your polished persona that office parties offer. Don't treat office parties as an open invitation to get drunk, and certainly don't treat them as a chore. Use office parties to show off your fun side and when the next round of projects come out at work no doubt you'll be first in line to lead one of them!
Network, Network, Network
Office parties are perfect openings for networking and you'd be crazy not to make use of these opportunities. Remember:
Turn up at least thirty minutes before dinner is served. This "cocktail hour" will give you the chance to mix and mingle with a wide variety of colleagues. If a meal is being served, stay at least thirty minutes after the last course for the same reason.
Don't just talk shop. Indulge in celebrity gossip with the film buff, discuss football with the sports fan and wax poetic about the weather with the amateur meteorologist. There are a lot of interesting people at work, so even a quick chat will lead you in directions you probably never expected. Maybe even right to the head of a new account.

Carry business cards. These may not apply if the party is strictly for your own company, but if clients will be circulating then you should aim to make yourself memorable. A small scrawl across the back – something along the lines of "Loved your case law analysis!" – will help others put a face to your name.
Don't gossip. No one likes a tattle tale and no one likes a malicious gossip either. Keep your conversations positive or you risk leaving an impression that's negative.
Show Off Your Polished Persona
While your out networking and enjoying yourself, show your higher-ups that you are suited for even greater heights by showing off your polished persona. Even if this is your first office party, enter the room with confidence. Be sure to:
Wear something appropriate. If you are not sure of the dress code, just ask.
Limit your alcohol intake. Alcohol can make you act like a prat, and inappropriate behaviour can make you the laughing stock of the office, and your colleagues certainly won't trust you with the office keys if it looks like you might leave them inside a cab in the wee hours.
Dance like an idiot. Seriously. Now is not the time for your smooth moves or bump-and-grind. Keep it light, keep it simple and keep it just like everyone else.
Be slightly aloof. Don't engage in massive displays of affection and certainly don't get caught, or go home with, a co-worker or client.
Make a gracious exit. Being carried out and poured into a taxi does not count as gracious.
Office parties are fun events, but they are still work events. As long as you remember to act appropriately and network then you should get along just fine. Remember, the change of scenery does not require a complete change in your personality so aim to be sociable and memorable, but not for the wrong reasons. Use your head and have fun and you should be reaping the rewards of a great night out in no time.
You might also like...