Supporting Your Friends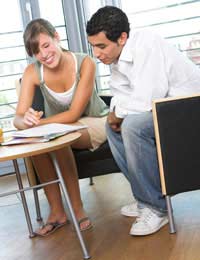 There's nothing worse than a good time guy or girl – the kind whose front and centre when it's all laughter and fun and frivolity, but is nowhere to be found when the going gets tough and you need a little support. Avoid being a fair-weather friend by letting your friends know you will always be there when they need you. Even if it's just offering your shoulder to cry on, your friends will appreciate this and by extension appreciate YOU.
When the Going Gets Tough
Student life can be stressful and draining, and when you're living away from your family there will be a lot of situations that will lead friends to lean on each other. Knowing about these upsetting events can help you prepare for them. Be aware of what is going on in your friends' lives, and realise that they may especially need support if:
They are having trouble with lectures.
They have failed exams.
They have lost out on a spot on a sports team/dance group/theatre troupe, etc.
They did not get the job they wanted.
They have fought with their parents.
Their parents are fighting with each other.
Their parents have decided to divorce.
They are fighting with their girlfriend/boyfriend.
They have just ended a relationship.
They find out that a friend or family member is ill.
They find out that they are ill.
They have suffered a traumatic event.
A friend or family member dies.
Offer Your Support
During tough times, most students realise that their friends can't solve their problems so if you are trying to support a friend don't even attempt this. Instead, let them dictate the kind of support they need. Chances are they just need someone to listen to them, so be sure to take their calls, send them texts, answer their emails, and meet them for coffee. Don't let these activities sap your energy or take you away from your own life, but do your best to keep a balance between the two. In supporting your friends:
Ask questions. Find out as much as you can about the situation.
Let them scream or cry - just not at you!
Empathise.
Do not interrupt.
Do not throw in your own stories. You may see similarities, but it's just not the right time.
Wait until your friends ask for your opinions before offering it.
Try not to offer advice, even if it is asked for. This could come back to haunt you.
Don't badmouth anyone because it could be that everyone will be friends again next week.
Don't be judgemental, particularly not about things that have already occurred.
Remember that your body language says a lot about how you feel.
Call for help if you think it is needed or your friend might do something drastic. You can't control your friends, but you can watch out for them.
Dare to Distract Them
When your friends are all talked out and you are out of soothing words, dare to distract them with a few fun activities. Get yourselves out and about and enjoy a change of scenery. Consider:
A trip to the cinema.
Organising an informal sports match in the park.
Spending an afternoon at the shops.
Whipping up a feast in the kitchen. Or trying to, anyway!
Hosting a DVD marathon.
Taking a daytrip.
Getting some friends together for a house party or trip to the pub.
Glamming up for a night on the tiles.
Supporting your friends when they need you is a skill that will serve you well throughout your life. Not only will your friends appreciate your wise ways, but you'll soon realise that support works both ways and the next time you need a friend to talk to, they'll be queuing up to repay the favour!
You might also like...