Ending a Friendship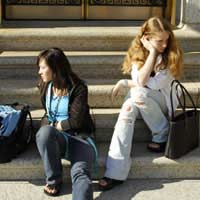 Ending a romantic relationship can be painful. It can leave you feeling lonely, rejected, guilty and depressed. Most of society recognises the pain of a broken heart, and understands that peoples' relationships must change as they grow, but far fewer individuals extend these beliefs to the end of a friendship. Though ending a friendship can be just as upsetting as the break up of a romantic relationship, very rarely is any advice given for making this smooth transition. If you feel that one of your friendships has run it's natural course and that it is time to move on, but you aren't quiet sure how to do this, then you have come to the right place. Ending a friendship may be unpleasant, but if you know that it is best then don't delay.
Deciding to End a Friendship
Deciding to end a friendship is not something that should be done lightly. No matter what has precipitated your thoughts about breaking-up with a friend, give yourself some time to evaluate your relationship and imagine alternative futures for yourselves. Ask yourself:
What have been the highlights of your friendship in the past?
What are the qualities that attracted you to your friend in the first place?
How have you and your friend resolved conflicts in the past?
Was there any particular event that has made you question your friendship?
Do you believe you will ever be able to forgive your friend, or yourself, and move forward from a particularly painful incident?
Can you imagine your future without your friend playing a part?
Can you imagine a future for your friend without your friendship?
Do you feel that either you or your friend could benefit from professional help in any regard?
Would your friendship benefit, or be saved, from professional intervention?
Letting Your Friend Know
When you have decided to end a friendship don't keep your friend in the dark. Ignoring phone calls and texts, avoiding your friend's favourite locations and refusing to engage in conversation with him/her is simply childish. Instead, prove your maturity and let your friend know about your decision.
Meet with your friend face to face in a setting free of distractions.
Do not meet with your friend for a meal or a drink as this will serve only to stretch out the meeting (and risk an alcohol-fuelled tirade).
Explain your stance simply and clearly, repeating your decision not to see your friend anymore.
Avoid referring to any particular incidents or events that could lead your friend to offer explanations or arguments.
Do not end your conversation with a promise to get in touch. Rather, wish your friend well and avoid false promises.
Getting On With Your Life
Once you have ended a friendship, getting on with your life is important. Don't seclude yourself and endlessly review what was done and what was said, and don't force others to listen to your analyses. Instead:
Discover new places to visit, including cafes, restaurants and pubs that hold no memories.
Treat yourself to a new novel, tickets to a film or a theatre matinee that will allow you to get lost in someone else's story.
Join an evening or weekend class to meet new people and try something new.
Plan a day trip to escape it all for a little while.
Ending a friendship can be just as traumatic as ending a romantic relationship, so giving yourself ample time to work through it and get over it is just as important. Don't rush into a rash decision, but don't stay in a hurtful relationship just because you can't face getting out. Be mature, be thoughtful and be clear, and ending a friendship will not be nearly as painful as the alternative.
You might also like...