First Date Fun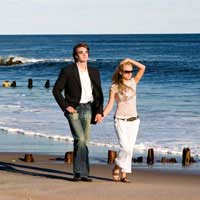 We all get carried away in the first weeks of a blossoming love affair. Flowers, sweet gifts, new date outfits, expensive dinners and even weekends away all seem appropriate, but for the most part these dreams will remain just that because of our bank balances. The good news is that you don't have to break the bank to have fun. If you're looking for some interesting, and affordable, first date ideas then look no further. Your next fabulous first date is just waiting to be planned!
Get to Know Each Other
If you want to get to know someone better, plan a date that gives you plenty of time to chat. This doesn't mean that the two of you need to interview each other, but it does mean you'll need to plan something that will kick off a great conversation. Consider:
Coffee/drinks/dinner.
A walk along the beach.
A picnic in the park.
Crazy golfing with friends.
Enjoying an amusement park.
Volunteering at, or engaging in, a local charity event.
Get Cultured
There are hundreds of interesting cultural activities on offer around the UK, and the good news is that many of them are free or offer reduced entry fees for students. Think about:
Taking in a theatrical matinee.
Wandering through a museum or gallery.
Attending a concert or jam session.
Listening to a lecture or reading.
Perusing a second hand bookstore.
Visiting a National Trust site or country house.
Get Physical
If you're the outdoorsy type then another world of opportunities has just opened for your first dates. Just make sure that your potential partner is of a similar inclination before planning:
A scenic hike.
A bucolic bike ride.
Rowing or canoeing in a picturesque lake.
Pairing up for doubles tennis or becoming golf partners.
A heavenly horseback ride.
To leave the activity up to the professionals and take in a match or game!
Get a Clue
No matter what you plan for your next first date, there are certain rules that will help you have a great time. Be sure to:
Dress appropriately and comfortably.
Bring enough money but stay within your budget.
Keep your mobile phone charged and on.
Tell a friend who you are with, where you are going and when you expect to return.
Stay sober enough to make smart decisions.
Engage only in safer sex, and only if you feel comfortable with this decision.
First dates can be nervous, exciting times. If it makes you feel any better, this is usually the case for both parties! Just be yourself, have fun and keep your fingers crossed that soon you'll get the pleasure of planning a second date, and then a third…
You might also like...