Moving in with Your Partner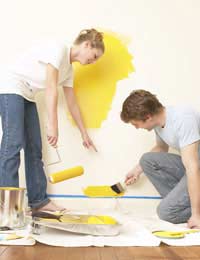 Hopefully you do it because you are madly in love, though sometimes people do it to save on rent, anger their parents, get a built-in maid, get a built-in chef, or even just to avoid buying furniture. Moving in with your partner is a big decision, and one that everyone must make on their own. If you are considering moving in with your partner, be sure to think about all of the angles and decide what is right for you. Then, no matter what you decide, have fun and enjoy yourself!
Taking the Decision
Taking the decision to move in with your partner really must be an informed process. Even if your heart is singing, let your brain slow you down and make you think. Ask yourself:
Are we a committed couple and ready for this level of intimacy?
Do I really want to live with my partner, or am I just flattered by the offer?
What will I have to compromise if we move in together?
What will I refuse to compromise on if we move in together?
Where will we live, and how will we divide the rent?
How will we organise our living expenses, such as for food and utilities?
How will we divide the chores, such as cooking and cleaning?
Who will be in charge of decorating?
What will we do if we have a fight and need time to ourselves?
What will our policies be regarding hosting parties, having nights out and being apart?
Will we be completely honest with our families about our living arrangements, or will we be living a lie?
Will we sign any sort of cohabitation agreement?
What will happen if we break up?
Making the Arrangements
If you have thought through every angle of moving in together (right down to both of you agreeing to knock before ever entering a bathroom!) and you're still raring to go then all that's left is to make the arrangements. Draw up a giant "to do" list and be sure to include:
Agreeing to a rent maximum and calling up an estate agent, if needed.
Looking at new places together.
Contacting utility suppliers to set up new accounts.
Applying for a dual bank account for household expenses, if desired.
Totally cleaning out of your new home to make a fresh start.
Totally cleaning out of your new fridge and re-stocking it with nice, fresh food.
Deciding which furniture stays and which furniture goes.
Deciding which accessories, such as duvet covers and dish sets, will fit in with your look.
Shopping for new home goods, including electronic goods like televisions, CD players and DVD players.
Toasting Your Success
Once you're all set up in your new home, celebrate your success! You and your partner have just taken a significant step toward a shared future and this deserves to be marked as a special occasion. Depending on your new circumstances, consider:
Throwing an open house for all of your friends and family.
Organising an elegant sit-down dinner for a select few.
Treating yourselves to a candle lit dinner – even if it only involves pizza.
Making the most of your new space and having a picnic in the living room, or possibly the bedroom!
Moving in with your partner is a big decision, but as long as you are honest with yourself then no doubt you'll take the right one. Consider all of the angles, make up your mind and then enjoy your future – whatever it may hold!
You might also like...