Matchmaking Your Friends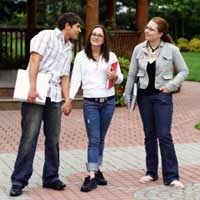 If you believe in unicorns, leprechauns and the man in the moon, then you can be forgiven for believing that matchmaking for friends will result in a happily-ever-after for everyone. If, however, you can differentiate between fantasy and reality then there's no reason for you to be wearing such rose coloured glasses. Sure setting up your friends can work, but it can also backfire horribly. If your friends don't hit it off then both of them will question your judgement, whereas if they do hit it off you may become the third wheel. Even worse, if they hit it off but then fall out you may be put in the awkward position of having to choose between them. If you have seriously considered all of these situations and still feel that matchmaking for friends is the thing to do, then go right ahead. Just don't say we didn't warn you!
View Your Friends Dispassionately
Sure your friends are great and you love them all, but will they love each other? In order to answer this question truthfully you must view them dispassionately, being sure to take into account all sorts of minute detail that you may overlook on a day-to-day basis. Think about:
Their interests and leisure pursuits.
Their favourite books, films and music.
Their morals and values.
Their favourite meals, drinks and snacks.
Their appearance and personal style.
Their pet hates.
Their hopes, fears and dreams (if you know them!).
Decide Where You Will Stand
If you view your friends in the cold light of day and still decide that they should be set up, make sure you decide where you will stand in the new relationship before you make any moves towards matchmaking. Consider:
If you will answer questions about one friend from the other.
If you will repeat gossip or stories you hear about either friend to the other.
If you will listen to one partner complain about another.
If you will give either partner advice regarding their relationship.
If you will listen to intimate details of their relationship.
If you will take sides or give advice to either partner in the event of an argument.
How you will remain friends with each partner in the event of a break-up.
Fill Your Own Schedule
Once you understand the new role you will need to carve for yourself if your friends do get together, think about how you will spend your time when they want a little time to themselves. Come up with ideas now so that if you are left on your own later you won't just flop in front of the TV. Brainstorm:
Crafts that you would like to learn.
Sports that you would like to play.
Music that you would like to listen to, or make.
Films that you would like to see.
Novels that you would like to read, or write.
Fashions that you would like to design.
Recipes that you would like to cook.
Parties or get-togethers that you would like to organise.
Restaurants and pubs that you would like to try out.
Cities or towns that you would like to explore.
Matchmaking for friends can be a tricky business. At the best of times they may fall madly in love and leave you out in the cold, while at the worst of times they may have a huge falling out that leaves you caught in the middle. If you are still determined to play Cupid and set your friends up, a simple introduction will be more than enough. After a quick introduction simply step away, catch your breath and let the magic happen.
You might also like...