Platonic Friendships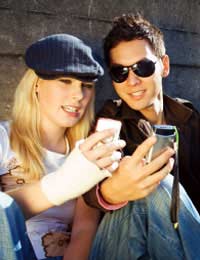 A platonic friendship is one in which friends of different genders enjoy a non-sexual relationship. To be technical the friends much each be of different genders and be heterosexual, so therefore a sexual relationship could be possible but the friends choose not to make it so. Many young people scoff at the idea that platonic friendships can truly exist, though others believe that platonic friendships shouldn't even be categorised as such – they are simply friendships like all others. If you are exploring the idea of a platonic friendship, remember that a few ground rules will go a long way towards your success.
He is Not One of the Girls
If you're the female half of a platonic friendship, try to remember that your male friend is not just one of the girls. It may be easy to mistake him for just another female friend, particularly if you feel that you can talk about anything and everything with him, but at the end of the day he's not. Respect that he may not be comfortable with particular topics, including:
Commenting on your weight or appearance.
Accompanying you on shopping trips.
Discussing menstrual matters.
Making judgements on your romantic life, or partners.
Offering his own romantic life, or partners, for judgement.
Reviewing anything chick: chick literature, chick flicks, etc.
She is Not One of the Guys
If you're the male half of a platonic friendship you're advised to remember your female friend is not just one of the guys. She might talk tough and win at any spitting contest, but always show consideration for the fact that she may be uncomfortable in certain situations, such as:
Judging you in any sort of romantic or sexual manner.
Mocking or insulting other women.
Attempting to out drink, out eat, out burp or out fart you.
Being asked to give a "girl's opinion" or speak for all females, everywhere.
Being asked or expected to cook, clean, wash or shop for you.
You Two Are a Unique Couple
Regardless of your gender, if you are a part of a platonic friendship then you are a part of a unique couple. To make a success of your friendship, keep in mind what attracted the two of you to each other in the first place. Don't let others' expectations get in the way of your fun, particularly when:
You are repeatedly asked if you are, or are repeatedly mistaken for, a couple.
You are repeatedly asked if one or both of you is/are homosexual.
People insist that one of you must have a crush on or be in love with the other.
People insist that your relationship will never "work" (as if it's not working already!).
Friends ask you to set them up with your platonic partner.
Platonic friendships are often given a bad reputation. Some people assume that there can be no such thing as a platonic friendship; others assume that if you are involved in a platonic friendship then one of you must still be in the closet, and yet others believe that platonic friends simply haven't admitted their feelings for each other yet. Though any or all of these could be the case, don't allow your platonic friendship to be bogged down with definitions. Enjoy your friends, whatever the gender, and let others worry themselves about the rest!
You might also like...