Dating at University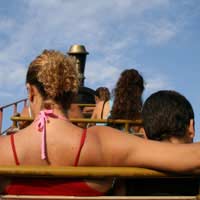 No doubt roars of protest can be heard already – "but there's no such thing as dating at university!" or "no one dates at university!" or even "dating at university went out when the pill came in!" (from a purely sociological standpoint of course). This may be the sad state of affairs at universities across the UK, and if a barren dating landscape is what you have discovered then it is up to you to change it. Dating at university may be ailing, but it's not quite dead yet so help to resurrect it and your own social life while you're at it. Remember, if you're not part of the solution you're part of the problem.
Be Bold
Dating is not for the weak, and dating at university takes even more courage. Be bold and make the first move. Asking others out on dates can be nerve-wracking, but it may also be the only way of getting a date in the foreseeable future. Remember to:
Get to know someone before asking them for a date. If you have to remind him/her that you are from chemistry class then it's probably doomed from the start.
Keep it brief. No need for long love stories, just mention that you were thinking of checking out the new Shilpa Shetty film and would they like to come with you.
Have a plan. Asking about a vague future commitment, such as saying "We should hang out sometime," is not asking for a date nor does a positive reply make it a firm engagement. Asking if (s)he would like to go to dinner on Friday night is a much better option.
Make it exclusive. Inviting him/her to join your friends for a day of paintball may be fun, but it doesn't signal romantic intentions. Rather than leaving everyone clouded in confusion make it obvious that it will be just the two of you.
Be Safe
Unfortunately, dating does expose you to certain dangers. Whether you've asked for the date or accepted a date, make sure that you feel safe and comfortable at all times. Be sure to:
Let friends know who you will be with and where you will be likely to go.
Let friends know when you will be back, and update them if you think you will be later than originally planned.
Limit your alcohol intake.
Keep an eye on your drink at all times.
Keep your mobile with you and turned on at all times.
Have cash for a taxi on hand.
Stay in public places with others around.
Be Fun
There's no point in going on a date if you are going to hang around like a wet blanket the whole time. Be prepared to have fun, and undertaking an unusual activity is one way to do just that. Forget the traditional dinner and cinema date, and instead:
Organise a cooking lesson.
Tour a nearby botanical garden.
Take a crafts class.
Arrange for a music lesson or to make your own CD.
Go to an open audition or casting call.
Spend the afternoon cheering for your favourite sports team.
Attend a reading or book signing.
Get retro at a roller derby.
Scare yourself silly on a roller coaster or at a haunted house.
Dating at university can be a lot like fighting an uphill battle. It may seem like everything from lack of money to peer pressure conspires against you, but this doesn't mean that you just have to roll over and accept an endless cycle of pints at the pub. Be proactive, be bold, be safe and be fun – the perfect recipe for a perfect date. Now get out there and find someone special to share it with!
You might also like...