Living with Flatmates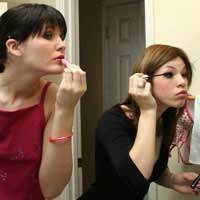 Most of us enjoy a little peace and quiet in our own private spaces, but unless you're a whiz kid billionaire, student accommodation generally means living with flatmates. If you get lucky, they will only annoy you half the time, but even this can seem like too much when you are stressed out and longing for some alone time. Before you contemplate kicking out your co-habitators, read through this crash course on living with flatmates. The next time the rent is due you'll be glad you did!
Pick Your Flatmates Carefully
The best way to avoid a bad flatmate situation is to pick your flatmates carefully from the start. If you're living in halls of residence this may not be possible and you'll be stuck with the luck of the draw, but if you are contemplating private accommodation then you're in the driver's seat. Get motivated to scout out your own place, that way you can interview potential flatmates rather than the other way around. Make sure you and any potential flatmates agree on:
Alcohol, cigarette and drugs policies.
What, and when, is considered "quiet time."
Hygiene standards for communal living areas, and bathrooms.
A set schedule for cleaning and chores.
How you will divide food and cooking.
Overnight and longer term guests.
Pets.
Realise You'll All Need to Compromise
Living with flatmates is a true test of putting the common good above your own interests. No doubt you'll be faced with many scenarios that you would like to end one way, but you're flatmates will all be rooting for the other. You'll need to keep your head at these times and realise that making your flatmates happy may be more important than your individual wishes, particularly if the issue is minor or petty. Common scenarios that require flatmates to compromise include when:
Someone wants to throw a party but others don't.
Someone needs to study but others don't.
Someone wants to invest in new furniture or technology, but others don't.
Someone wants to eat all together each evening but others don't.
Someone wants everyone to join in a group activity or outing but others don't.
Respect Each Other's Privacy
It's great when roommates all choose to hang out together and like each other well enough to plan activities together, but sometimes this won't be the case. If you've got a flatmate that prefers to be by him/herself, respect this. Privacy and trust are two-way streets, so if you are respectful of others' privacy and don't break their trust, they will return the favour to you. Be particularly aware of:
Affording flatmates privacy when they are on the phone.
Delivering, but not disturbing, their post.
Respecting their wishes for some time alone.
Accepting a roommate's request that you not enter their room/look in their drawers/use their laptop.
Knocking before entering any room with a closed door.
Get to Know Each Other
Even if you are the most respectful flatmates in the world, problems can still occur if you don't really know each other. Take the time to settle in during your first few weeks together, but try to spend enough time together that you each come to realise the others':
Backgrounds and future goals.
Morals and values.
Political and social views.
Preferences and pet hates.
Typical reactions to delightful or stressful situations.
Unfortunately there is no definitive handbook for living with flatmates, but in most situations common courtesy goes a long way. You may or may not end up being friends with your flatmates, but if you can all agree to a few ground rules and respectful living arrangements then you should have hassle free housing for as long as you want it. Good luck!
You might also like...