Storage Solutions for Small Spaces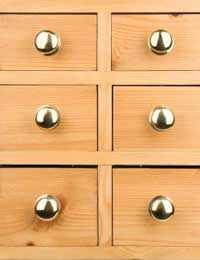 Decorating on a student budget can be something of a mission impossible but even harder than getting a luxury look, is designing storage solutions for small spaces. Most student accommodation comes with the basics, a wardrobe, a desk and possibly a bookshelf if you are lucky, so it's up to you to make sure that your style statement includes storage options. If you've ever turned in an essay late because you couldn't find it, cut short research because your room couldn't hold any more books or wrapped up studying because there was no place to sit comfortably then you're in the danger zone. Integrate a few of these storage solutions for small spaces into your accommodation and soon you'll be sitting pretty – with pretty good marks, too!
Become Ruthless
If you are struggling in a small space it is imperative that you become ruthless in your decorating. Every item you bring into a room must be both attractive and functional so that it fits your design scheme and makes your life easier. This means that your Simpsons box set can stay, but the talking Homer doll has to go. Only when you are certain that everything in your room looks good and is useful should you move on.
Demand Multi-Taskers
When you have sorted out your home accessories turn your attention to your furniture. A great way to open up a small space is to leave some unused floor space. Rather than cramming in a bed, an easy chair, a desk, a night table and a book case consider finding a few items that can do double duty. For example a day bed gives you space to both sleep and relax, and you can pair it with a drop-leaf table that acts as both a desk and night table. Using an extra-tall book case that can house boxes and baskets full of supplies will round out your décor without taking up every free centimetre of space.
Get Creative
It may not be your parents' way, but remember that this isn't your parents' house. Get creative with storage solutions by bringing in colourful boxes, hanging baskets, over-the-door shelves and containers to hang from your wardrobe rail. Don't forget about handy storage spaces like under the bed, on top of a bookshelf and on a windowsill. Bring in artistic friends if you have to, but don't feel that you must abide by traditional interior design rules. Throw caution to the wind and do it your way!
Fake More Space
Once you know what you want to put in your space, begin working on the space itself. Get your landlord's permission before you make any changes, but consider faking more space by:
Painting walls and ceilings a light colour to "open" rooms.
Using a large wall mirror to promote light and trick the eye into seeing more space.
Making the back of doors a part of the room by hanging art pieces or posters.
Keeping it neat. When everything is in its place you'll feel like you have much more room than you actually do.
Finding storage solutions for small spaces can be frustrating, but once you have a plan you can relax and remember that you won't have to do it again unless you want to. If you find that something isn't working for you, however, don't be afraid to admit defeat and try something new. Your accommodation is your private space and should fit your personality and ideals, so take control and make it your own. Good luck!
You might also like...