Affordable Interior Design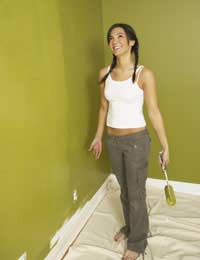 Batik tapestries, curling movie posters and a variety of ash trays are SO last century when it comes to student decorating. Sure you've still got to work with the same tiny spaces and the same tiny budget, but do you really need to follow the herd and live one step up from a prison cell? Absolutely not! With a little bit of hard work, a little bit of creativity and a lot of fun the sky's the limit on affordable interior design for students.
A Little Bit of Hard Work
Scouting for bargains and bagging big deals takes a little bit of hard work. When the going gets tough, remind yourself that your next massive find could be just around the corner and keep going. Remember:
Becoming friendly with furniture shop assistants will help you get on mailing lists for special notices and sales.
Finding out when particular shops turn over their stock will allow you to snap up bargains before they are sent out and get the first pick of new stock when it comes in.
Charity shops and second hand shops all offer fantastic discounts and one-of-a-kind pieces that will allow you to create a funky or quirky design scheme.
Design shops and craft shops offer a great array of material and trimmings that can be turned into curtains, duvet covers, table cloths and more.
Braving dodgy weather to get to car boot sales, fairs and flea markets can bring great results.
A Little Bit of Creativity
With your major purchases completed, using a little bit of creativity to organise your rooms will bring out about a whole new look. Using other decorations to round out your affordable interior design scheme is a great idea too. Consider:
Using bright paints to jazz up a boring room (after you've secured your landlord's approval, of course).
Hanging prints that you're artistic friends and family have donated to your worthy cause.
Creating vases and jugs in ceramics classes and using them to decorate.
Opening up small rooms by lining the walls with mirrors.
Giving yourself plenty of storage space with bright shelves, funky containers, bright buckets and anything else you can think of.
Using every inch of your space, including hanging baskets from ceilings or painting a lovely starry night or a cloudy sky mural as the inspiration strikes.
A Lot of Fun
The great thing about affordable interior design is that it is always changing. You may like your designs just fine until you find a vintage armoire selling for just a few pence and then it's time to change your entire look! Your personal spaces should reflect your personality and no matter how you choose to portray it, the only thing that matters is that you are comfortable with it. If you are considering structural changes, consult your landlord and make sure that you'll be complying with all health and safety codes, and of course keep an eye on anything flammable or that you anticipate having an open flame. Other than making sure that you are obeying all necessary codes, just let your imagination run riot. Even if it turns out horribly, a quick coat of paint and a strategically placed picture will leave it just a bad memory. Good luck!
You might also like...