Interviewing Potential Flatmates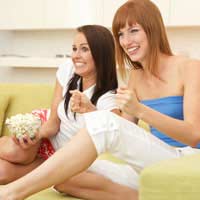 Flatmates are a mixed bag. On the one hand they are total strangers that you don't necessarily want to know but on the other you're going to be living intimately with them for the foreseeable future so you've got to hope they'll work out. One way to gain as much control over this situation as possible is to interview potential flatmates before you allow them to move in. Yes, this does mean that you'll need to be super-motivated to find a house/apartment/flat and get it all squared away before putting out a call for flatmates, and yes, this does mean that you'll need to be super-organised to give everyone an interview time and keep track of the results, but a few months from now when you're living in domestic peace you'll be super-glad you did!
Advertising for Flatmates
Where to Advertise
When you're ready to interview for flatmates, advertising is key. To begin with, remember that where you advertise is just as important as how and what you advertise. Sure you can just tack up a notice at college, but if you want to get like-minded people think about the kind of places you frequent. Places you can tack notices and leave fliers often include:
Music and book shops.
Local eateries, coffee shops and cafes.
Yoga and holistic healing centres.
Local gyms and swimming pools.
Clubs and pubs you enjoy.
University buildings and centres.
How to Advertise
To make your advertisements stand out from the crowd you've got to put a little effort into them! To attract interesting types, make them interesting. Invest in:
Coloured papers.
Funky fonts.
Glitter, ribbon, stickers, scraps of fabric.
Colourful pushpins to tack them up with.
Pinking shears to create unique edges for your fliers.
What to Advertise
Keep your advertisements clear and simple. Don't clutter up the pages with a lot of information, but make sure to list:
The type of flatmate you are looking for (gender, age, smoker/non-smoker, etc.).
The proposed rent.
The location of the house/apartment/flat.
Your contact information (though do not list your full name).
Interviewing Flatmates
When you've been inundated by calls from people who want to be flatmates with someone as creative and cool as you, carrying out the interviews is the next step. Consider scheduling them all on one evening so that you get them over with quickly and will be more likely to remember everyone individually. During the interviews remember to ask about:
Their student and/or employment status.
Where they have lived previously and if they have references.
How they will be paying their share of the rent.
If they can commit to staying for a full term, full school year, or full year.
Their views on:

Alcohol, cigarette and drugs policies.
What, and when, is considered "quiet time."
Hygiene standards for communal living areas, and bathrooms.
A set schedule for cleaning and chores.
How you will divide food and cooking.
Overnight and longer term guests.
Pets.

Their daily routines.
Their favourite activities and pet hates.
Taking on flatmates is always a gamble, but if you interview prospective flatmates properly you can substantially lower the risks. Don't feel that you need to entertain prospective flatmates during an interview, and don't feel that you must draw out an interview that is obviously not working. Trust your instincts about potential flatmates, back them up with facts that you glean from your interviews and you'll be off to the best start possible. Good luck!
You might also like...