I Moved Back Home to Save Money on Digs: Case Study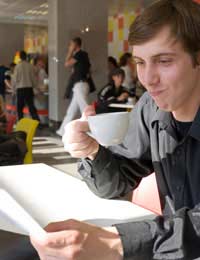 Higher education was never just about qualifications and the opportunity to better prepare yourself for the job market. Generations of students have enjoyed that other perk of being accepted at one of their chosen colleges – the chance to escape the family home and enjoy themselves far from the disapproving or overly protective parental gaze.
Unfortunately, this opportunity is being denied to a great many individuals in recent years because of the economic imperatives that have resulted from rising tuition fees and family budgets squeezed by an uncertain employment market.
In a 2010 study by the Higher Education Funding Council for England (HEFCE), 23 per cent of those embarking on their fresher's year were found to be doing so from the comfort of their own home. There will have been a number of different reasons why that 23 percent took the decision, but there is no doubt economics was a significant reason in many cases.
Joe was in a different situation. He had spent his first year away from home, in halls, and had thoroughly enjoyed the experience. During the summer, in common with many others, he had stayed in his adopted town and banded together with close friends to find a shared house for the second year. All went well until the following November when his parent's increasingly perilous finances meant they were no longer in a position to provide him with the £400 a month rent he required.
The news, naturally, came as something of a shock for Joe, and the subsequent conversations were a little heated: "At the time I was really angry, and said a few things I shouldn't, like they were only doing it to rein me in, to stop me having fun. Looking back I was just being selfish, and childish – I mean, if people don't have the money, they don't have the money."
Having tracked down a replacement to take his room in the house, Joe packed up and headed home. He was lucky because college was only a 45-minute train ride away and his timetable meant he didn't need to be close to college a lot of the time anyway – a valid point his parents had made to him.
Used to His Own Space
Even so, the first few weeks were a bit tense. Joe may have only been away a year, but he had developed so much in that short time and was used to his own space, and organising how he like to live within that space. He was also used to coming and going as he pleased. What he most feared – mum and dad reverting to treating him like a kid – became a reality: "It was like I was twelve or thirteen all over again: 'Where are you going?'; 'What time will you be back?'; 'What would you like for dinner tonight?' It really was suffocating. And what was really galling was my mum tidying my room – that was the last straw!"
It was time, Joe decided, that the three of them sat down and said what they wanted to say, to discuss the situation and come to an arrangement – otherwise he couldn't see any way out other than leaving again, and finding a part-time job that would pay for his rent.
"It was the part-time job suggestion that made them sit up. I'd always thought it was a good idea but they were against it because they felt it would interfere with my course work and lectures – that was the reason they had volunteered to cover my rent in the first place. So from then on, negotiations, if you want to call them that, were a little smoother. They realised that I wasn't a kid any more, and I certainly wasn't the same person who had left a year earlier.
Like Three People Sharing a House
"Once we started talking to each other as three adults would, rather than parents and son, we decided to relax the situation, with mum and dad shopping and cooking for themselves and me doing what I wanted in the kitchen as and when I wanted. And it worked – we were like three people sharing a house. This extended to me coming and going as I wanted without any questions being asked."
Nearly 12 months down the line, and with Joe just into his third year, he is still at home. Has the decision meant he's missed out on social life at college? "No, it hasn't. I kip over or stay the weekend if there's a big night out or a do on. Being at home has also meant I've kept in touch with friends from sixth form. So it's a case of the best of both worlds, really.
"Having said that, it's not ideal. I still think it would be healthy for both me and mum and dad if that break from home had been permanent. But the reality at the moment is that I haven't got the money to make that permanent break, and I won't do until I finish college and find a job. Learning that lesson has helped me grow up a little. So if only for that reason, moving back home has been beneficial."
You might also like...