Household Checklist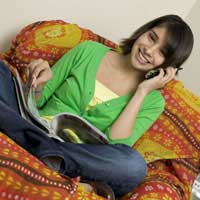 It might seem a bit over the top to thoroughly inventory your house/flat/room if you're only planning on staying in it for a short period, but from the moment you strike out on your own you must be responsible for all of your possessions and ensuring your safety and comfort. These handy household checklists will help you stay on top of your responsibilities, stay organised and stay in control.
Keep Your Documents Handy
Keeping all of your household documents handy and in one place will make it much easier for you should you ever need them. Invest in a quality (possibly even fire-proof) container to organise:
A copy of your rental or homeowner's insurance.
Copies of insurance for any valuables that you may have brought with you.
Copies of inspection certificates.
Receipts for any repairs or purchases you have made that require reimbursement from your landlord.
Warranties for household goods or electronics.
Pictures of any items you might need to claim if they are damaged or stolen.
Keep Yourself Safe
Every house/flat/room should have certain safety features to keep you healthy and secure. Technically most of these items may be the responsibility of your landlord, but if they are not provided don't wait for your landlord to purchase them, get them as soon as possible. Check to see if you have:
A fire extinguisher and fire blanket.
Emergency torch and extra batteries.
A smoke detector.
A carbon monoxide detector.
Fire exits that are unobstructed.
Locks on all of your doors and windows.
Keep Your Space Clean
Keeping your spaces clean is an important part of living on your own. Make sure you are up to the task by keeping basic supplies on hand, including:
Broom, mop, sponges and dusting cloths.
Bleach, all purpose cleaner, glass cleaner and toilet cleaner.
Bin liners.
Recycling containers.
Laundry supplies.
Hoover.
Keep Yourself Comfortable
Making sure that your living areas are safe and clean will go a long way towards keeping yourself comfortable, though there a few more things you can do. When you have the time, think about:
Investing in enough seating for yourself and guests, even if it requires a few bean-bags.
Hanging curtains both for decoration and to keep out draughts.
Scattering a few throw pillows around.
Organising an impressive collection of books, DVDs, and/or video games.
Keeping your work organised with interesting tack boards, magnets, files and more.
Choosing luxurious bedding and towels.
Keep Your Contacts Ready
Though your daily life should be hassle free, there may be emergencies that require contacts to help you out. Make sure everyone living with you agrees on who your contacts will be and keep this list near your phone. Include the name and telephone number of:
A family member for each person living with you.
A plumber.
An electrician.
A builder/contractor.
Your landlord.
Police and fire.
Emergency services.
A GP.
A dentist.
Moving into your own house/flat/room is a big responsibility. You must be certain that you are well insured, safe, clean and comfortable and have emergency contacts ready in case you need them. Keeping track of all of this information can be frustrating, but with a little help from an organised guide it will soon be second nature to be responsible and on top of things. Using these checklists will help keep your organised and in control, and let you have a lot more fun when you put your mind at ease.
You might also like...