Make Your Student Accommodation Safe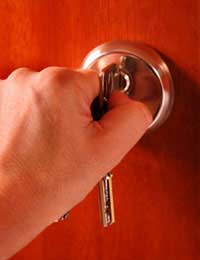 In the mad rush to personalise, decorate or even mildly renovate your accommodation, don't forget that the most important thing you can do is safety proof it. Many students take a cursory glance at the locks and figure that they are safe enough, but this couldn't be further from the truth. Guarding against leaks, fire, infestations and theft are more important than any amount of decorative cushions or pictures. In fact, these checks should all be carried out before you even move into your accommodation so that when you finally get your poster collection hung you can be sure they will remain safe, even when you are not around to guard them with your life!
Checking for Leaks
Gas and carbon monoxide leaks are major contributors to household disasters. Both natural gas and carbon monoxide are invisible to the naked eye, but steady leaks into a house or flat can be harmful to both the property and the health of the inhabitants. To make sure that you aren't about to move into an accommodation with a gas or carbon monoxide leak:
Ask your prospective landlord to display the Gas Safety Certificate for the property and make sure that the last servicing record was within the past year.
Ensure that there is proper ventilation near all gas appliances and throughout the property.
Ask your prospective landlord to demonstrate the carbon monoxide detector in the accommodation, or purchase one if it is absent.
Ensuring Electrical and Fire Safety
Another threat to the safety of student accommodations is poor electrical and fire safety. Landlords are not entirely liable to ensure that electrical and fire safety checks are carried out consistently, so take this responsibility on yourself and:
Familiarise yourself with the main fuse box and power supply.
Check that all switches, outlets and wiring are covered properly.
Take note of how often power surges, blown fuses and sparks occur when using electrical appliances.
Plug as few appliances as possible into each outlet, and unplug appliances that are not in use. Unplug all appliances when no one is living in the property.
Make sure that there is a fire extinguisher and fire blanket on the premises.
Check that all furniture and household accessories are fireproof or at least flame retardant.
Keep all candles covered and lit only while directly supervised.
Test all smoke detectors and fire alarms each week. If they start to chirp, replace the batteries immediately.
Control Pests, Vermin, Mould and Damp
Pests, vermin, mould and damp can all be scourges to otherwise safe and secure accommodations. The minute you suspect a problem or see the warning signs of any of these, report it to your landlord immediately. Guard against infestations by:
Listening for "scrabbling" around the house that might signal mice.
Checking for signs of mould in the attic, in the basement and in corners.
Looking for clues of rising damp on the walls and in corners.
Calling Pest Control to exterminate rats and cockroaches (for free!).
Keeping your accommodation neat and clean to cut down on breeding opportunities and see early signs when an infestation does begin.
Protect Against Theft
When your accommodation has gotten the all-clear regarding leaks, fire hazards and infestations, focus your energy on guarding the many precious items you bring inside. Protect your accommodation against theft by:
Making sure all doors and windows have appropriate latches and locks.
Guaranteeing that keys are only distributed to those living in the accommodation.
Seeing that an alarm has been fitted to the property and the code is not obvious to others.
Keeping all valuables away from windows.
Investing in a fireproof safe in which you can store priceless papers and documents.
Safety proofing your accommodation is the most important thing you can do when you move into a new place. Only when you are certain that your health, and your personal property, is safe should you move into an accommodation. Good luck!
You might also like...