Staying Healthy as a Student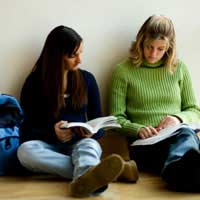 Staying healthy is something for which everyone must take personal responsibility. Students in particular must remain vigilant about their health because they are pulled in so many different directions and need vast amounts of energy to keep up with their commitments. If you value your health and wellbeing read through these top tips for staying healthy.
Eat Well
With so many options available it can be hard to remember the basic rules for eating well. Fad diets, ready meals and take-aways all vie for our attention, often diverting us from the fresh, wholesome foods that we know to be healthy. According to the British Nutrition Foundation, the basis of a healthy diet includes:
A third of your daily food intake should be bread, cereal or potatoes.
Eating 5 different fruits and vegetables per day.
Consuming 2 – 3 servings of milk or dairy per day.
Sensible portions of meat, fish or alternatives, including 2 servings of fish per week.
A serving or less of fatty or sugary foods per day, including sugary drinks.
Drinking at least six glasses of water per day and more when you are active.
Work Out
Once you are feeding your body a healthy diet, make sure that you also offer it multiple opportunities each day to stretch, strengthen and tone. Working up a sweat for about 30 minutes each day will leave you feeling better and with noticeably more energy and enthusiasm for all of your other activities. To make the most of your workouts, remember to:
Quit smoking. Cigarette smoke wreaks havoc on your body and will stand in the way of true health.
Integrate aerobic or cardiovascular activities, weight training and stretching to into your workout.
Join the student health club and explore their exercise equipment and classes.
Bring home an exercise or fitness video to work out in private.
Build a home gym with free weights and a skipping rope so that you can exercise even when it is cold and rainy.
Rest
An important part of staying healthy is getting enough rest. Both your body and mind require free time to recharge and regenerate. Aim to get at least 8 hours of sleep per night, and give yourself multiple breaks during the day. Sneak in rest by:
Concentrating on eating during your meals, nothing else.
Listening to music during your commute.
Flipping through a magazine while you wait in line.
Taking a yoga or meditation class instead of watching television.
Hanging out with friends for a few hours.
Staying healthy requires work, but the benefits far outweigh the costs. Commit to living a healthier lifestyle and you will reap the rewards of fewer illnesses, increased energy, more enthusiasm and better health. Overcome the obstacles and commit to healthy living today.
You might also like...