Pre-Uni Checklist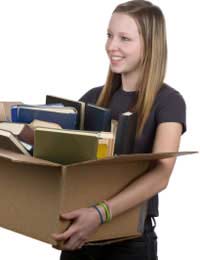 Your mother will make sure you pack your retainer while your father is busy packing up the family's encyclopaedias. Your older sister won't let you leave without hair gel and your younger brother won't let you leave with the Xbox. Everybody's got different ideas about what is an absolute necessity at university and while this means you get a lot of different opinions, it also means that you'll need to wade through their suggestions with care. Before you do anything, check with your university or landlord to see what will already be provided for you and then draw up a list of what else you think you will need to bring. Make packing for university easy for yourself by following this easy pre-Uni checklist and you can rest well knowing that you've covered almost all of the basics, with a few extras thrown in too!
For Your Room
Sheets, blankets and duvet.
Pillow and pillowcases.
Decorative pillows, if desired.
Towels, hand towels and wash cloths.
Mirror.
Desk, if not already supplied.
Chair, if not already supplied.
Desk lamp.
Desk stationary and accessories.
Posters or other decorations.
Phone, with answering machine if needed.
Under the bed, behind the door or in the wardrobe storage containers.
Hangers.
Clothes horse for drying laundry.
Laundry basket and laundry detergent.
Dishes and utensils.
Glasses (water, wine, etc.)
Cleaning supplies (sprays and liquids, sponges, broom, etc.)
Alarm clock and/or wall clock.
Fan for the warm weather, if needed.
Space heater for the cold weather, if needed.
For Yourself
Enough underwear for at least one week.
Enough pairs of socks for at least one week.
Jeans.
Smart trousers.
Several shirts.
Several sweaters.
Suit (and tie) for interviewing.
Belt.
Trainers.
Casual shoes.
Dress shoes.
Gym clothes.
Bathing suit.
Pyjamas, bathrobe and slippers.
Coat and jacket.
Raincoat.
Jewellery and accessories.
Umbrella.
Hat, gloves and scarf.
Flip-flops or other sandals for wearing in the shower and at the gym.
Personal care items (deodorant, toothpaste, tampons, comb, etc.)
Hair dryer and hair straighteners.
Sleeping mask and ear plugs, to be used as needed.
Music and music player (mp3 player, CD player, etc.)
Favourite novels and DVDs.
Cards or board games, just for fun.
Television, if desired (but remember to get a TV licence).
DVD player, if desired.
Digital camera, if desired.
Mobile phone.
For Your Studies
Laptop computer and protective bag or sleeve.
Memory stick.
Notebooks, lined paper, pens, pencils, highlighters.
Books for your courses.
Readings for your courses.
Subscription to academic journals or magazines, if needed.
Subscription to local, national or online newspaper, if needed.
Reference books (dictionary, thesaurus, etc.)
Printer and scanner, if desired.
Calculator.
CDRs for backing up files, digital pictures and music, if desired.
Reading glasses or contact lenses.
For Your Files
Copy of your GCSE and A-Level results.
Up to date CV and generic cover letter.
Copies of letters of reference.
Address book with postal and email addresses as well as landline and mobile phone numbers.
Stamps.
Driver's licence.
Passport.
Copies of medical/health insurance, car insurance, travel insurance, etc.
NHS number.
National Insurance number.
Banking paperwork and details.
Warranties for electronics.
Map or tourist guide to your new location.
University registration and paperwork.
University fees paperwork.
Paperwork regarding student loans, if needed.
Courses and work schedule.
Packing to go to university can be a hectic, frustrating time. Most students feel overwhelmed by the number of items they must remember and often it is the basics that fall by the wayside. Don't forget something important when you begin your pre-Uni packing. Instead, use this handy pre-Uni checklist to make sure that you've got what you need - and maybe a few things that you don't.
You might also like...
Hi!! Im 16 and dont have a drivers licence or a passport, will i still be able to get into university, by any chance?
Agree with taking down just the basics. With all the things in the article, about all that'll be left at home is the kitchen sink! Travel light to start, your parents can always bring down more later when you see what you need and what you have room for. Besides, at home everything is perfectly safe.
cate
- 5-Oct-12 @ 1:51 PM
Not all this stuff needs to be transported at once (and possible just as well as you'd need a van). Unless it's a very warm autumn, leave the fan, for instance, and the summer clothes can stay at home. To begin with just take down the basics. After a couple of weeks you'll know what else you really need (if you're living in a hall, there's not much space anyway).
Kerry
- 7-Jun-12 @ 2:18 PM