Adjusting to a New Location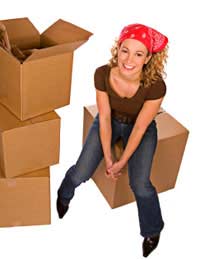 One of the most stressful parts of moving to a new place is trying to become orientated with your new surroundings. This can take time and be intimidating, but until you get a feel for the local geography you can never truly feel settled. Exploring your new residence, neighbourhood and city is integral to adjusting to a new location. Take proper precautions to stay safe during your explorations, but don't let the thought of roaming around on your own put you off. It may seem scary, but venturing far and wide is the only way to really get to know your new home.
Explore Your New Residence
Whether you live in the halls of residence, your own flat or a shared house, exploring your new residence is the first step to adjusting to a new location. Get to know every nook and cranny so that in the event of an emergency, or a late night, you know exactly where to find what you need. Don't betray flatmates' trust by poking through their private areas, but do pay particular attention to the location of common fixtures such as:
Fire exits and windows.
Power box for electricity.
Water and gas supplies.
Alarms.
Smoke and carbon monoxide detectors.
Major appliances.
Cookery sets and utensils.
Rubbish and recycling receptacles.
Foodstuffs.
Emergency kits and supplies.
First aid kits and supplies.
Explore Your New Neighbourhood
Once you have settled into your new residence, the next step towards adjusting to a new location is to get out and explore your new neighbourhood. Try to explore both on a weekday and weekend so that you can gauge how busy your neighbourhood is and the types of neighbours you have. Hunt around for the best bargains and most comfortable cafes, and make sure that you find out the locations of:
Newsagent.
Grocery store or supermarket.
ATM and bank branch.
Doctor's surgery.
Chemist.
Video/DVD rental shop.
Laundrette.
Bookshop.
Library.
Gym or leisure centre.
Coffee shop or café.
Good restaurant.
Church, mosque or synagogue.
Police stations.
Post office.
Public transportation stops and stations.
Internet cafes.
Explore Your New City
When you are comfortable in your own residence and neighbourhood, branch out by exploring the city so that you can totally adjust to your new location. Whether you have yearned for the bright lights all your life or you anticipate venturing out into the big city only occasionally, knowing where you are going is the key to feeling safe and comfortable. On your first adventure, check out:
Cinemas and theatres.
Museums and galleries.
Exhibitions and lectures.
Concert halls.
Public libraries.
Clothing and accessory shops.
Outdoor markets.
Specialised food stores.
Parks and gardens.
Zoos.
Cafes, restaurants, pubs and clubs.
Public transportation stops and stations.
Adjusting to a new location can take time, but getting to know your own residence, neighbourhood and the wider city is a great way to get more comfortable. Remember that no matter where you go or what you discover you should always take appropriate precautions to stay safe, including staying near a crowd, keeping to areas with good lighting, never wandering off with a stranger, and keeping a mobile phone with you at all times. Also be sure to let friends know where you are planning to go and what time you are planning to return. Stay safe, have fun and soon you'll be an expert on your new home.
You might also like...