Dealing with Homesickness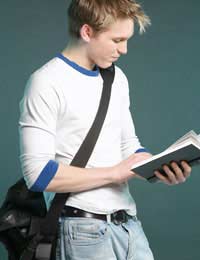 No matter how ready you were to leave home or how excited you were to start university, homesickness is likely to strike when you least expect it. One day you might be attending classes all morning, meeting new friends for lunch and joining all sorts of fun clubs in the afternoon only to find yourself in bed at 7pm, crying into an old photo album. Strange though it may seem, a few bouts of this kind of sadness is perfectly normal. In fact, it would be a little strange if you left home for the first time and didn't care at all. Rather than fight with your homesickness, acknowledge it, let it stay for a little while, and then get busy to get rid of those melancholy feelings!
Acknowledge Homesickness
There's nothing worse than trying to stifle your homesickness only to have it pop up at the least opportune times, like during an important exam or just as you are about to go out with new friends. If you feel sad now and then, that's fine. Let yourself think back over fun times that you had at home, things you did with old friends and family and how much you'd like for them all to be with you. There's nothing strange about these feelings, so invite them in for a little while.
Let Homesickness Hang Around for a Little While
Letting your homesickness hang around is perfectly fine, as long as you don't let it lead you to destructive behaviours. If you find yourself turning to a bottle, a packet of pills, an extreme diet or anything resembling cutting yourself, then you've moved beyond homesickness and need to find professional help. If, however, you find yourself a little down and a little lonely every now and then you're probably just experiencing a bout of homesickness. Make these emotions productive by:
Digging out photos of family and old friends and making a collage or scrapbook.
Starting up a newsletter to forward to all of your old friends and letting them add their own news as desired.
Giving a family member or friend a call.
Creating a 'blog to keep family and friends up to date with your new life.
Organising a reunion, mini-break or even summer holiday for group of old friends.
Writing a poem, short story or song about how you are feeling.
Getting Rid of Homesickness
Once you've indulged your feelings of homesickness, used them in a productive manner and gotten in touch with family and friends back home, it's time to kick homesickness to the curb. No one is saying that you should forget where you came from, but while at university you must throw yourself into a new, exciting, and most of all fun life. Be sure to:
Investigate courses that sound interesting.
Join clubs and sports teams.
Attend special lectures, meetings and exhibits that catch your fancy.
Experiment with your living space and get it just the way you like it.
Get yourself organised, both physically and mentally, with a student diary that will help you keep track of all of your new commitments.
Take advantage of your new location by exploring notable sites and surrounding areas.
Enjoy yourself! There's no limit on how many friends you can have in your life so go ahead and make a few more.
Homesickness is a common emotion among first years at university. Don't try to repress your feelings of homesickness, rather acknowledge them, turn them into productive energy and then move on because you'll never be able to enjoy your present if your head is stuck in the past. Enjoy your new surrounding, your new friends and your new life – you've worked for it and you deserve it!
You might also like...