Doing Laundry at University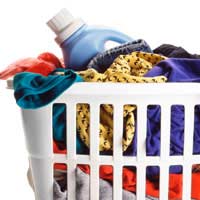 If there is one rite of passage into modern adulthood it's doing laundry. No one actually likes to do laundry, but if we don't do it we have nothing to wear, and if we do it wrong we end up walking around looking like something dropped on, ripped from, nibbled at or otherwise ruined our clothes. Make sure you look your best while you conquer the world by sorting your laundry immediately.
Prepare for Laundry Victory
One of the best ways to lighten your laundry load (at least figuratively) is to take a look at your clothes' laundry labels before you even buy them. Inside each garment is a small tag - usually under the collar or waistband, though sometimes inside a side seam – that gives cleaning instructions. To keep your laundry simple, try to avoid purchasing any item that requires:
Dry cleaning only.
Hand washing.
Washing alone several times in case the colour runs.
Drying flat.
Ironing.
Get Sorted
When it does come time to clean your laundry, the best way to start is by sorting your clothes. First sort by colour, even if you only do a "lights" and "darks" pile (to avoid anything running or staining). Once you have similar colours combined, have another look at the washing instructions inside each. Usually garments require either a warm or cool wash, so make sure you again sort accordingly. Finally, have a look at the soiled items. If anything contains a heavy amount of dirt, such as trousers that became encrusted with mud or socks that soaked up a blood blister, consider washing these alone.
Take Care
Take care to keep your clothes from coming in contact with foreign objects that could hurt or further soil them during washing. Be sure to check each garment for:
Coins/money in the pockets.
Makeup, particularly lipsticks in pockets.
Belts, pins, jewellery or other accessories that may still be attached.
Tears or holes that may widen during washing.
Strings that could get snarled during washing.
Choose Your Weapon
Now that your laundry has been well sorted and checked over, what you clean it with should be the focus of your attention. Make sure that your garments' cleaning instructions do not negate any of your options (such as with a "No Bleach" warning) and take into account whether you are allergic or have any aversion to any particular colours or scents. Remember that you can use a wide array of cleansers including:
Pre-treatments, such as stain removers that can be applied before washing.
Liquid detergents.
Powder detergents.
Bleach.
Colour-safe bleach.
"Black wash" for dark colours and denims.
Fabric softeners.
Dryer sheets.
Cross Your Fingers
Even the most experienced laundry experts have to wish for good luck sometimes, particularly when confronted with strange stains, unique colours and new cleansers. If doing laundry is something new for you, don't beat yourself up if your first attempts aren't the best. Resolve to become a laundry protégé and some day soon you'll be striding across campus in clothes that positively sparkle. That will get everyone's attention!
You might also like...