Keeping in Touch With Home as a Student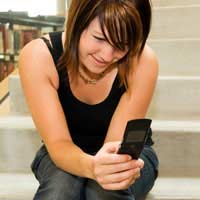 When you get caught up in the flurry of new activities at university it can be hard to stay in touch with family and friends at home. For the first little while they will forgive you for being busy but before long you will need to learn how to correspond or risk losing those close to you. Avoid ruining your relationships by learning to keep in touch via phone, post or a host of electronic options. There's something to suit everyone, so don't even think about hiding behind "But I couldn't get in touch with you!"
Pick up the Phone
Family and friends will glow with happiness when they get a phone call from you, not the least because they will get to hear your voice. Even if you only mean to call for a few minutes, the miles will melt away when you hear the sounds of home so be sure to research cost effective options that will allow you to talk for as long as you like. Investigate:
Reverse charge calls. These calls are initiated by calling the operator and having him/her ask the party you are calling if they will accept the charges. The benefit for you is that you end up paying no money, but the charges are high for those at the other end. Use this kind of call sparingly.
Mobile phones. Be warned that the calling charges will be high if your mobile is "roaming," and some networks may even charge the receiver for the minutes they talk to you. Investigate the cost of text messaging as well since this is often a cheaper alternative.

Phone cards. Buying prepaid phone cards is a great way to keep track of your charges. These cards come in prepaid amounts and come equipped with a local number through which you make your long distance call. Keep a phone card with you at all times and you'll be ready for anything.
Put It in the Post
Swallow your technical pride and remember that you can always send correspondence through the post. Even if you're only writing one or two lines, there are many ways to keep in touch with family and friends.
Postcards. Your friends will be pleased to recieve a picture postcard to brighten their day, and even better for you is that they are cheap to buy and even cheaper to send.
Cards. Whether hand made or shop bought, cards let you write a bit and enclose any photos or other documents you desire. You can't go wrong with a thoughtful card.
Letters. From airmail to registered, there are a variety of options for the speed of your post. Everything from a simple letter to boxes of gifts can be sent through the post, and no doubt you'll get a reputation for your generosity if you try out all of your options.
Awesome Electronic Options
If immediate communication is more your style then nothing beats an electronic option. Almost all universities offer students free Internet access, and Internet cafes usually offer a student or young persons' rate to help you save some money.
Web-based email. Yahoo, Gmail and Hotmail are all popular internet email accounts that you can access from any Internet connection. Be sure to use the address book of your email account to save time and effort.
E-cards. Many websites offer free e-cards which are good for birthdays and holidays, or just to let someone you that they are in your thoughts.
Mobile phone accounts. Some mobile phone providers offer their customers free online services, such as a certain amount of free text messages from their Internet site.
Internet telephony. Many applications such as Skype and other voice over Internet protocols act like a telephone you can access via the Internet. The cost of these calls is much less than using traditional telephone companies.
Going to university will give you the chance to meet new people and try new things, but don't forget those that are still at home. Use the phone, post or a host of electronic options to keep in touch with family and friends and your relationships will continue to blossom!
You might also like...