What To Do In an Emergency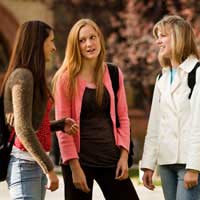 Fire. Flood. Theft. Illness. Accident. Potential emergencies abound when you are out on your own and while you may not be able to predict when emergencies will occur you can prepare for them. Start each term with a quick hour's worth of emergency preparation and you will be ready no matter what life throws your way.
Familiarise Yourself with Your Home
There's no telling what kinds of emergencies you might encounter in your life, but you'll better deal with anything if you are familiarised with your home. Know where to find:
Spare doors and windows.
Spare keys for all locks and instructions on how to open latches and locks.
Electricity supply.
Gas supply.
Water supply.
Smoke and carbon monoxide detectors.
Fire alarms.
Make an Emergency Plan
Perhaps the single most important thing you can do to prepare for potential emergencies is to come up with an emergency plan. If you are living in a hall of residence then no doubt there are fire exits and meeting points mapped out for you already, but if you are living in private accommodation then this is something you and your flatmates must agree upon.
Discuss:
How you will all exit your home.
Where you will all meet up when you get outside.
What you will do if someone does not reach the agreed upon meeting point.
Who will call 999 or otherwise alert the authorities.
How you will stay in contact with each other and family members.
Pack an Emergency Kit
Keeping an emergency kit fully stocked may seem a bit over the top, not to mention budget-blowing, but in truth this small pack may just save your life one day. Keep a second version of this kit in your car so that you will be sure to have supplies on hand whenever needed. Simply fill a large bag or backpack with:
Bottled water (enough for three days per person).
Tinned or packaged food (enough for three days per person).
A torch with extra batteries.
Matches.
Battery powered radio.
A copy of all birth certificates, passport ID pages, immunisation records and driver's licenses.
A copy of all necessary prescriptions, including for glasses or contact lenses.
Personal care items.
A first aid kit and extra plasters.
Medications that are needed regularly.
Cash, change and an emergency credit card.
An extra set of car and house keys.
A list of names and addresses of contacts including family, friends, health care and safety professionals.
A few articles of clothing.
Blanket.
Name an Emergency Contact
In the event that you are unable to speak for yourself during an emergency it is important that you name an emergency contact with whom others can speak. Keeping this individual's name and contact information in your emergency kits is a good idea, as is programming his/her telephone number into your mobile with the heading "ICE" which stands for "in case of emergency." Remember to use the individual's full name for this, rather than simply programming "Dad" or "Aunt Jo." Making this information clear for others will help everything run smoothly in the event that it must be used.
You can't spend your life worrying about possible emergencies, but you can take a few steps to adequately prepare for any emergency. Make sure that you familiarise yourself with your home, have an emergency plan, stock an emergency kit and designate an emergency contact each time you move home. When all of these steps are complete, relax – you're ready for just about anything!
You might also like...