Housekeeping and Cleaning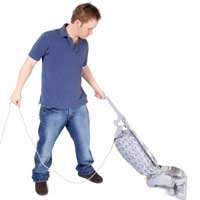 If the last time your mother visited she nearly had a heart attack at the state of your floors or the grime on your windows, or the cobwebs in your corners, or anything else having to do with housekeeping and cleaning, it sounds as though a good spring clean is in order – even if it isn't quite the right season!
Housekeeping Heaven
Housekeeping and cleaning are two tasks that never end. Every hour of every day there is the potential to tidy up and clean out. While you obviously won't be paying this much attention to your humble abode, there are certain basic chores that every adult should undertake at least once a week. At the very least, make sure that you get into a routine of:
Doing laundry.
Washing dishes and cutlery.
Taking out the rubbish and recycling.
Dusting.
Sweeping and mopping the floors.
Hoovering all carpets.
Changing bed linens and towels.
Sparkling up the windows and mirrors.
Cleaning the toilet, bath/shower and taps.
Splurge on Suitable Supplies
It's easy to say that you will clean, but unless you have suitable supplies on hand the reality is that it may never get done. To make sure you can tackle any housekeeping emergency, invest in:
Rubber Gloves.
Sponges.
Several large, durable cleaning cloths.
Bleach.
Washing up liquid.
Toilet cleaner.
Shower spray.
Window/mirror spray.
Kitchen spray.
Dust cloths.
Furniture and wood polish.
Floor cleaner.
All purpose cleaner with bleach.
A mid-priced, reputable Hoover.
An old cleaning outfit so you can wield your bleach with abandon.
Little and Often
When faced with a rubbish heap instead of a flat, even the most committed cleaners will have their doubts. Rather than repeatedly giving up whole days to clean, build little chores into your routine that you can do often, before they pile up. Simple scenarios include:
Using shower spray after each shower.
Squirting toilet cleaner under the rim while you brush your teeth at night.
Washing up the daily dishes while you listen to the news after dinner.
Wiping down the microwave whenever you throw a load of laundry in.
Dusting, then hovering up all of the particles directly after.
Taking out the rubbish when you leave in the morning (so it won't stink up the house each day!).
Housekeeping and cleaning are the kinds of activities that remind you that you are an adult – none of us really want to do them, but we all know that we have to. A small tidy every day will go a long way towards keeping your flat fantastic, and scheduling in one day a week for each of the major chores will keep you clean and healthy. If that's not enough incentive, just imagine all of the friends who will want to come over when word gets out that your place is perfect. And how many might be tempted to linger even longer…
You might also like...