Get the Most out of University Life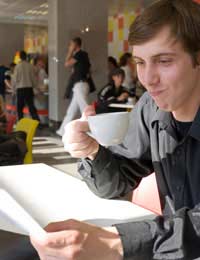 University is a crazy time in your life - full of possibilities, excitement and adventures. It can be really hard to harness all the potential opportunities that university life offers because it is also a time of uncertainty, home sickness and personal development.
It is worth remembering that getting a degree is often a very expensive business - what with tuition fees, student debt and no definite job at the end of it - so the importance of the social aspect of your next three years may be falling behind the practical elements of your experience.
Here are some ideas of how to maximise what you gain from your next three years at university.
Don't Go Home too Early in Your First Term
In fact, try not to go home at all until Christmas is you can manage it. This is the term when everything changes the quickest and going home can make you feel so homesick that you don't put your all into your time.
Join at Least One Club or Society
There are so many to chose from that you can find out about at Freshers Week, so whatever your hobby there will be something to get involved with, whether it be drama, pot holing, religion or sailing. If you don't have a particular hobby already, now is the perfect time to try something new. Think about the type of people you would like to meet - like-minded thoughtful types or creative extroverts - and join something appropriate. This will help give structure to your extra curricular activity, too.
Keep Alert in Lectures and Take Notes
Yes, this is what you're there for but it can be too easy to think that university is all about beer and parties. It will make sure you keep on top of your workload.
Think Carefully About Whom You Want to Flat Share With
If you have been in halls in your first year, you may be expected to find your own accommodation in your second and third years. The best housemates may not be your best friends. It is worth bearing in mind that you will need to pay bills, do housework and not cause a load of noise when it comes to getting an essay written.
Don't Blow All Your Money
It may sound boring, but actually having a budget and sticking to it will allow you to have more fun throughout the year, rather than just a crazy few weeks and then the rest of the term with baked beans and no booze.
Learn How to Cook a Few Basic Meals
Not only will it make you friends, but it may even help you with potential girlfriends! Ask your mum or grandma before you leave for university, or get a decent student or meals for one type recipe book. If you can master a few basics you can make a whole host of meals - for example, a good minced beef and tomato sauce can be used for spaghetti bolognaise, lasagne, cottage pie and shepherds pie. A roast chicken can make meals for a few days - curry, risotto or stir fry.
Don't Get in With the Wrong Crowd
If you start feeling like you're getting out of your depth with your new groups of friends, take subtle steps to break the bond. They may drink or be getting into drugs more than you are comfortable with or not taking their studies as seriously as you want to. Don't make a big deal of it and 'break up' with them, just get more involved with other friends, your club or society or go home for the weekend to break the habit of hanging out with them.
You might also like...