Ten Steps for Better Research at University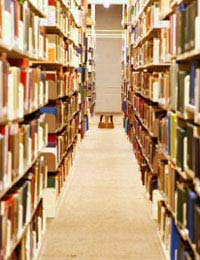 Being turned loose in a university library can be a terrifying experience for any student who needs to conduct research.
Thankfully there are many tricks that university students can use to help make sure that they are as efficient as possible each and every time they conduct scholarly research.
To help you make the most of your time, we've put together 10 easy steps to help you conduct better research at university.
1. Take a Tour of Your University Library
You have a variety of library professionals at your service, and joining them for a library tour will help give you an idea of which resources are available to you (books, journals, electronic databases, reference resources, interlibrary loans, etc.) and where you can find them. If you need help later you'll also know who your subject librarian is and where you can find reference librarians able to help you track down needed information.
2. Know Your Research Question
Before you waste time looking for useless information make sure you know your research question. If you're working on a thesis then you may find that your research question emerges from background research, but even in this case you'll need to know the general topic so that you can start your search. Also be aware of any research requirements as some instructors ask for a certain number of sources or certain types of sources included in your bibliography.
3. Know Your Time Frame
Obviously instructors will have different expectations for assessments that are given with a one week deadline and assessments that can be completed over the entire term. Knowing your time frame will give you an idea of how much research you can conduct. Also make sure you know if any mini-deadlines are due before the final assessment must be handed in. Breaking your work down into manageable chunks will help keep you from feeling overwhelmed and will also help you prioritise those parts that are due first.
4. Evaluate Your Sources
Just because you find a source that relates to your research topic doesn't mean it will be appropriate for your purposes. Evaluate not only the information that the source contains but also the authority of the source. Why should you believe it? Is it up to date? What is the reputation of the author? Could the information be biased? It is especially important to evaluate the authority of Internet sources since anyone can publish information there at any time.
6. Keep Track of Your Sources
It can be easy to lose track of which information you find from your sources, so make sure that every note you take references the source from which it came. Try to take down all of the information you'd need to include in a bibliography. This will also be useful for making your bibliography or works cited list later and citing sources within your papers.
7. Exploit Your Sources
When you find a source that offers you good information, exploit it for other potential resources. Look at the bibliography to see if you can use any of those sources in your own research. Skim the source to see if it mentions any other works as groundbreaking or pivotal. While Wikipedia is not considered an academic source, mining it for links to others sites and works can be a great way to start your research.
8. Look for What's Missing
If you haven't been assigned a research question and must develop one of your own then take special note of topics that are missing in current research. These holes could be good indications of topics that are crying out for research. But beware, some topics might be missing because there is no information available and/or because conducting such studies could be a very large or difficult task.
9. Take Direct Quotes
As you take notes, be sure to take them in your own language and make it obvious when you have taken a direct quote from your source. Direct quotes should be offset by inverted commas and should include details of where it was found. If the quote you take from a source is actually a quote itself, then take down both the source in which you found it and the source from which it was originally taken. With such well-detailed notes you'll have little worry of inadvertent plagiarism later.
10. Leave the University
After a while you'll no doubt wear out the sources available to you at your university. Try to get off campus and do a little research at a public or special library where the sources will be a little bit different. Alternatively, see if you can leave the sources behind and go to a museum, centre, lecture, workshop or even on a tour of a particular place or area to gain a better understanding of your topic. Getting a different feel for your topic will not only help you stayed interested in it, but might also help you come up with your own angle for your assessment.
You might also like...