Organising a Study Group at College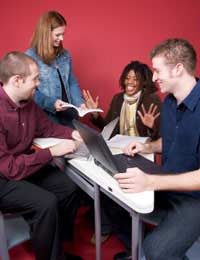 You've probably been told that studying with your friends is a bad idea. At the very least you'll end up off topic while the worst case scenario might be that the tension gets to be too much and something petty breaks up a good friendship. If this has put you off studying in a group then think again. Studying with others lets you work through problems, view different perspectives, and hear alternative arguments until you can truly wrap your head around a whole concept. Just make sure your group includes a wide variety, rather than just you and your best friend, and you should have no problems. Except for studying without each other, that is!
Get People Together
As any theatre producer knows, a great cast is an integral ingredient to the success of a production. Getting the cast of your study group right can make all the difference between a half-hearted huddle and a tip-top triumph. Before your first study group meeting be sure to target serious students, preferably 5 – 6 others besides yourself, including:
Those who are known to do well in class.
Those who have a passion for the subject, regardless of their marks.
Those who volunteer during classes and labs.
Those who take notes, highlight text or otherwise jot down their thoughts during lectures.
Those who continue discussions outside of the lecture hall.
Those who have voiced an interest in learning more about a subject or doing better in a particular course.
Find a Venue
Once you have some interested group members, the next step to organising a study group is to set the right scene. Though study groups should be social occasions, they probably shouldn't take place in common social settings such as the local pub or student union. Instead aim for somewhere well lit, comfortable, quiet but not silent, and that can provide food, drinks and facilities when needed. Consider:
Booking a seminar room on campus or in the university library.
Finding a spare lecture hall.
Meeting the group at a local coffee shop.
Taking turns hosting the group at each person's home.
Treating yourselves to a meal out and keeping the discussion focused – while avoiding the wine menu completely.
Using a local park on sunny or warm days.
Make Some Rules
While no study group needs to run like a military campaign there must be some organisation to make sure that each meeting is productive and helpful to all involved. The best way to do this is to draw up an agenda before each meeting. Decide:
When and where the next meeting will take place.
Which topics will be covered during the study group.
Who will be in charge of keeping the group focused and on the right topics.
What materials (books, notes, photocopies, etc.) each group member should bring.
If anyone will take notes during group meetings and how they will be distributed later.
How group members can get in touch with each other after the meeting for further discussion or clarification.
The old adage "two heads are better than one" couldn't be more true when it comes to study groups. Organising a study group will allow you to meet classmates and make new friends while at the same time sharing in each other's special talents and expertise. The next time you know you need to hit the books consider calling up others and organising a study group instead – you'll all thank yourselves later!
You might also like...