Advice on Giving and Receiving Tutoring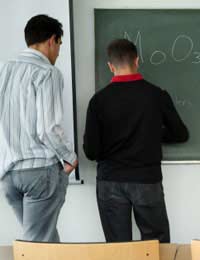 Tutoring is often portrayed as a good-will duty something you should engage in because you have a particular talent or skill and it will make the world a better place if you share it. On the flip side, tutoring is also often portrayed as a last resort, something you should seek out only if you are in danger of failing an exam or course and can see no other way out. Well step down out of these stereotypes because tutoring is coming into its own again. This method of informal teaching is a fabulous chance to teach or learn from others, get outside of standard educational confines and have some fun while you're doing it. Go on, think about tutoring today. We dare you.
Tutoring: Getting
Deciding that you need some extra help is admirable and finding a good tutor can literally be a life-changing discovery. Whether you need extra cello lessons, someone with whom to practice your German or an expert to help you re-learn your logarithms, there is a tutor out there for everyone. Make sure that you get what you want by knowing what you want, including the topics with which you need help, how often you suspect you need help and how much you are willing to pay (if at all) for this help. When all of this is clear in your mind, include it in your ad for a new tutor. Post your ads:
On university and community notice boards.
In university offices dedicated to student support.
In your specific school or department.
At local book shops and coffee shops.
On Internet notice boards devoted to your particular subjects.
At your local library.
Tutoring: Giving
Many factors can lead you to become a tutor: a desire to volunteer and help others, a yearning for something to put on your CV, or a need for extra pocket money. No matter what spurs you on, remember that in order to be a tutor you need to be serious and committed. To find out more about offering your services as a tutor:
Ask about putting your name on lists kept by your university or department.
Search the Internet for organisations offering paid tutors in your area.
Volunteer to work with non-profit and charitable organisations.
Post ads at your local book shop, coffee shop or library.
Research proper teaching techniques and methods for working with others.
Put together some review sheets and teaching tools to bring with you when you begin.
Tutoring: For Everyone
It can be easy to forget that tutoring is a serious business when you are thrown together with someone your own age and you begin to bond. While tutoring should be enough fun that you look forward to your appointments, it is not a strictly social call. Get the most out of your tutoring sessions by:
Agreeing beforehand when and where you will meet up.
Deciding which topics to cover and which resources should be brought to the meeting.
Drawing up a plan for the session.
Exchanging information on how to get in touch with each other between meetings.
Tutoring can be a touchy subject for some students, but the smart ones recognise that getting and giving tutoring are great ways to meet new people, learn new things, and hone existing skills. If you find that you need a little extra help in a particular subject, or that you have a little extra time and a desire to teach, consider tutoring as a useful and practical outlet.
You might also like...