Creating a Quiet Study Space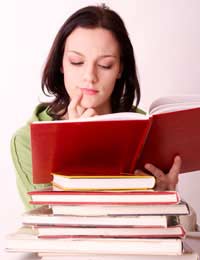 Studying is not an activity that most students undertake willingly, but most do recognise it as something between a necessary evil and an investment that should yield good exam results. Unfortunately, studying is not an activity that can be conducted just anywhere at any time. Students should try to set up a quiet study space for themselves, whether it be in their own home, at a local café or at a library, and stick to a schedule that allows them to make the most of their time spent studying in this location.
Studying at Home
Students who prefer to study at home should make sure that they have a dedicated, quiet study space that is respected by everyone else living in that home. A desk with a proper lamp, a comfortable chair and enough space to spread out books, notes and other materials are often considered the basics of any good home study space. If this space could be in a room with windows to keep it a comfortable temperature and to get some natural light, as well as with a door in order to block out the other members of the household, then this would be even better. If it is not possible to study away from the main household then a good pair of ear plugs or some ambient classical music (or any other music without lyrics) may help a student focus only on the learning at hand.
Studying at a Café
Many students find that studying in a café is most comfortable for them. This may be because the background noise is gentle yet easy to tune out and because cafes and coffee shops are generally heated to a comfortable temperature and offer a good amount of light. These locations also offer easy options for a study break and their food and beverages make a simple snack for hungry students. Some students may also find inspiration in the comings and goings of a café or coffee shop and so may choose to do assignments such as creative writing in these locations. Again, if noise or interruptions become a problem then ear plugs or ambient music may be a solution.
Studying at a Library
The library, whether it is located in a secondary school, university or the centre of town, has long been considered a prime location for learning. Libraries are usually quiet, well lit and comfortable and they tend to offer multiple locations for students to spread out their work. Most libraries also offer free access to computers as well as an array of reference options from newspapers and encyclopaedias to online databases. Librarians also come equipped with qualified librarians who can help students who must conduct research on a topic. However, use of a library's resources and even entrance to a library itself may be limited to students of an institution or members of the library. Ask at your school, university or local library about using the facilities if you think you would prefer this kind of study space.
Scheduling Study Time in a Preferred Space
Much as most students hate to admit it, scheduling in time for studying is necessary to get any real work done. If you prefer to study in a public location then you'll need to work around its opening hours while if you prefer to study at home then you can be freer with your specific study times. However, regardless of the location of your studying, you'll need to make sure that you are not staying up too late, getting up too early or otherwise cutting short your much needed rest.
Having a dedicated study space can help students more quickly get to work when they have studying to get through. Whether this space is at home, in a café or at a library, studying should only be undertaken when a student is fresh and attentive and should never take place when the student should be getting a good night's sleep.
You might also like...