Conducting Online Research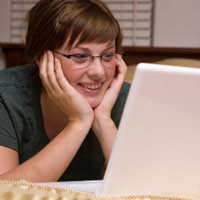 Turning to the Internet for an answer has become a common act in our daily lives, but when it comes to academic research a quick search engine check may not be enough to find definitive, and honest, information. The next time you log on for research be sure to plan your search, evaluate your sources and take down the identification information you will need to cite sources later.
Planning Your Search
Prior to starting your online search take the time to understand the question you are trying to answer. Plan out the search terms which are most appropriate and remember that searching for a phrase between inverted commas ("medieval history") will return results which feature the phrase rather than the two words at random places in the page. Similarly, using the words "and" and "or" will return either pages which contain both words at some point (dogs and cats), thus limiting results, or pages which mention either (dogs or cats), thus expanding results. Rather than solely relying on search engine results also consider which websites might be able to give you more information, for example sites from organisations or publications. Your school or public library website might have helpful links too.
Evaluating Your Sources
Once you find some useful online sources it becomes your responsibility to evaluate them. As yourself why you should trust the information they give you, since after all almost anyone can buy a domain and put up a website if they so desire. As you evaluate, ask yourself:
Who is the author? Is this person an expert? Can I verify that?
Could this information be biased? Are there ads on the page? Is the organisation biased?
Can I verify this information with another source?
How current is this information? When was the last time the page or site was updated?
If statistics are given, are the sources also given? Can you verify them?
How much coverage does the page or site give to the topics? Is it broad and deep?
Is there a bibliography you can use to check information and continue your research?
Is there any contact information listed with which you could verify items if needed?
Taking Down Identification Information of Sources
Once you have evaluated your online sources and feel confident that you can trust the information presented by them you will need to take down the source information so that you can identify it and cite it later. Not only is this necessary for compiling a bibliography for your research but it will help you return to sources and information later in your search if needed. Make a note of the author of the site, page or article, the title of the page or article, the web address of the page, electronic publisher (if given), date of electronic publishing (if given) and the date on which you accessed the page. If you can not find much of this identification information it may be an indication that you do not want to use this source in your research.
Conducting online research may seem quick and easy but it requires careful planning and evaluation to ensure that you find honest and valuable information. Taking down the identification information of your sources is essential for citing the results of your research.
You might also like...