Paying off Your Student Loan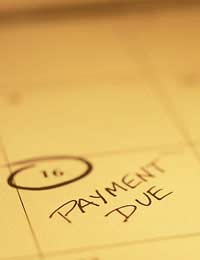 A student loan can easily total £10,000, and it is not uncommon for students (particularly those who have embarked on medical courses) to find themselves saddled with £20,000 of debt when they finish their course. Many find this a daunting prospect, and with good reason; starting independent life with such enormous financial shackles would not be high on the list of many peoples' desires. However, there are ways and means of mitigating the shock of the debt; a bit of creative thinking and some financial common sense go a long way.
Repayment Threshold
To begin with, it should be noted that you do not need to make any repayments on your government loans during the course of your university education. The new fees regime (often known as top-up fees) means that you can have your tuition costs paid for, as well as some of your living expenses, without having to worry about making contributions or repayments until you finish your course. Indeed, it is not certain that you will even have to start making repayments at that point; currently, there is an income threshold of £15,000, below which you will not be required to make any repayments. Once you reach the threshold the required payments from you seem small, but they increase with your income. The curve is steep, and so you should be aware that you may find yourself having to make fairly substantial repayments. However, the process is generally very easy; if you are on PAYE then deductions will be made automatically from your wages, and if you are self employed then your repayments should be factored into your self assessment.
Private Finance
It is also vital to remember that it is likely that you will have to start making repayments immediately on any private loans that you may have taken out. Virtually every student has an overdraft which comes as standard with a student current account from the high street banks, and a significant proportion of those students find themselves being fooled by the concept of 'free money'. An overdraft is, of course, far from free, even if the bank is not charging interest during your course. Some even give interest-free extensions for one or even two years after the end of your course, but you should check what the subsequent interest rates are; a standard rate of around 20% means significant repayment outgoings if you are, for example, £3,000 in debt.
An increasing number of students are also relying on credit cards to cover their day-to-day living expenses. This is particularly true of those studying in London, for whom government loans often fail to cover tuition and accommodation. If you have a number of different debts on which you need to make repayments on a monthly basis (for example credit cards, personal loans or overdrafts), then you may well find a method known as the Snowball useful. This is covered in more detail elsewhere on this site, but it essentially enables you to pay off all of your debts in a far shorter period of time (and more cheaply) than if you were simply making normal repayments. Furthermore, you should routinely check to see that you are getting the best deal on your credit card. If your credit rating is fairly sound, then you might also be able to take advantage of the Credit Card Shuffle, which is also covered elsewhere on this site.
You might also like...