Getting Credit While You're a Student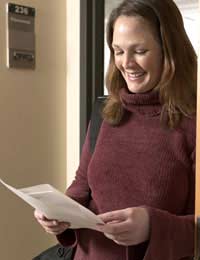 For the vast majority of students, their time at university is one of financial strain; while for most it is not a time of actual hardship, for almost all it certainly is a period in which your disposable income is very small. Indeed, with spiralling accommodation costs (particularly in London), many students now find that their government loans don't even pay for their tuition fees and a place to live.
Jobs
Many students try to supplement their income with a part-time job. However, there are serious downsides to this: in the first instance many people find that this interferes with their study to an unacceptable degree, while plenty of others find that the money they are earning does not justify the amount of time that's being shaved off the time they have available for university work. In either case, the vast majority of students apply for some sort of credit that is separate from their student loan during their time at university.
Getting credit as a student can be hard in some cases, and frighteningly easy in others. The most easily accessible form of credit available to people in your position is an overdraft. It is likely that you will have been bombarded with literature from various banks offering you apparently irresistible student account deals.
It is not uncommon to be offered a £3,000 overdraft with these accounts, with no interest to pay until you finish your studies. Many students rely on their overdrafts, and the interest-free element makes life far easier. Of course this is not 'free money', but it is readily available to pretty much every student; all you need to do is prove that you are enrolled on a full-time course.
Non-Standard Borrowing
Other types of credit can be more difficult to come by, but thankfully these tend to be the types that it is generally suggested that one should stay away from if at all possible. High street banks will almost exclusively refuse you a personal loan, for example, if you do not have a full-time job.
Credit cards are easier to come by, but you are still likely to find that you are refused credit by a number of institutions. In either case, there are always options for getting this type of credit, but you must realise that you will end up paying vastly over the odds for the privilege. The rapidly rising number of bankruptcies has meant that the market for financial products tailored to those with poor credit ratings (of which you are likely a member) has grown enormously.
As a result, you will probably be able to get a loan and you will certainly be able to get a credit card, but the interest rates on these will be astronomical. A standard interest rate on a personal loan is around 5%, but you shouldn't be surprised if the best you are offered is upwards of 25%. Similarly, companies like Capital One will offer credit cards to all and sundry, but their standard rate on the card that you will be given is just shy of 30%. This does not make borrowing cheap.
If you absolutely need credit then there are ways and means of getting it, almost regardless of your credit rating. However, you should avoid expensive 'non-standard' borrowing if you possibly can; for many people it leads to long-term financial disaster.
You might also like...