Travel Expenses at University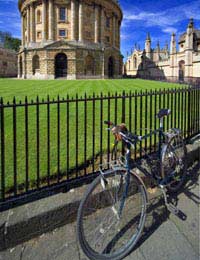 Travel expenses at university will depend largely upon how you travel, where you travel and how often you travel. Obtaining an International Student Identity Card (ISIC) or a National Union of Students (NUS) Extra Card can help you save money on certain travel methods, but the only sure fire way of reducing travel costs is to travel less often. For commuting students, walking, biking and are just a few methods of reducing daily travel expenses that can help you save money.
Setting Up A Travel Budget
Only you will know how much money you can spare each week or month for travel expenses, but give some thought to your travel habits to make sure you can anticipate a reasonably correct amount for your travel budget. Think about where you generally travel to (college, supermarket, work, etc.), how you get there (car, bus, train, taxi, etc.) and how frequently you go (daily, weekly, monthly, etc.). Then factor in the average cost of your transportation each time (the price of petrol, bus tickets, train tickets, etc.) and you should have a rough estimate of how much money you need to allocate to travelling.
Obtaining Discount Cards
If you find yourself travelling further afield than to a local college and back then purchasing a student discount card such as an ISIC or NUS Extra Card might make financial sense for you. For £9 the ISIC card will allow you to save money on a number of train and plane fares, not to mention hostels, hotels and more. The NUS Extra Card, which costs £10, actually incorporates the ISIC card and so offers these same travel savings as well as offers students discounts at outlets like McDonalds, Subway and Superdrug and competitions in which they can potentially win prizes. For students who travel some distance, these cards can offer great savings.
Saving Money While Commuting
Of course, most students will find that the vast majority of their travelling will be commuting of some sort. Whether it's to college, to a job or to a related activity, getting to these places can start to add up in petrol costs, bus charges and more. To beat these costs, commuters should see how much of these routes they can safely walk or cycle. If these aren't options then asking around about the possibility of carpooling could help decrease costs as well. Even if no one involved drives or owns a car there may still be some options. For example, teams that need to get to matches could see about pooling together to rent a private van. It may take some creativity, but with a little bit of thought the ways to reduce travel expenses could very well be endless.
Living on a student budget requires a lot of dedication and commitment to any financial plans that you draw up. To ensure that you allocate the necessary amounts to your travel budget, make sure you realise the correct cost of your travel and how often you travel. Investing in student discount cards such as ISIC or NUS Extra, and looking for creative ways to save money such as biking or carpooling will also help you save a little extra. If you do find yourself in a pinch, staying home is about the only way to guarantee that you don't need to spend money on travel expenses, so try to avoid this possibility if at all possible!
You might also like...
Can you assistance for flight ticket., buy it and send it to my email or to the airline office .you can billl later or learn me and i will paid later, or you assistance to paid or you give me,, any that is good for you . the travel is very urgent . i am waitf or your reply .
daniel
- 25-Jul-15 @ 9:43 PM
Hi helpdesk, how can the nus card be used for money off travel?. I have just applied for myn but not sure how I use it for money off actual travel to uni?. Regards, Victoria
Victoria Porter
- 20-Jul-15 @ 7:00 PM