Study Options for Mature Students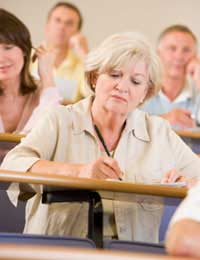 Mature students tend to return to education with definite goals in mind. Often they know how much time they have to give to their courses, they know their own strengths and weaknesses as students and they know what qualification they want to achieve from all of their work. Once mature students have these variables worked out, they can pick a study option that works best for them. Full time, part time or flexible study, distance or online learning and a variety of different qualifications are all options for the modern mature student.
Full Time, Part Time, Flexible
Most institutes of education have minimum requirements for full time students based either on course load or the number of hours of academic instruction for which a student enrolls. This plus side of being a full time student is that it allows for qualifications to be achieved in a shorter space of time, students are more immersed in their studies and students tend to feel a comradery with their fellow students.
However mature students may be hesitant to launch themselves into full time education straight away, or they may find that they can not work a full time schedule of classes around other commitments like employment or childcare. Part time study then remains an option, which means that students take a reduced number of classes per term and consequently take longer to achieve their qualifications. Some institutions may also have different fee rates for part time students.
Flexible studies are those that take a more "mix and match" approach and allow students to take more or less courses each term and perhaps even change methods of instruction (on campus, distance, online, etc) as they go. Not all institutions are able to offer such levels of flexibility, however, so mature students who prefer to tailor their programmes to their own needs should be sure to ask about such possibilities before making any final decisions.
Distance and Online Learning
Distance and online learning and increasingly popular method of instruction. Distance learning is learning which takes place away from the educational institution - hence at a distance.
Online learning takes place via a computer and Internet connection rather than face-to-face. Much of distance learning is today online learning and very often the terms are used interchangeably. Mature students may favor these options because they are incredibly flexible and allow students to learn on their own schedule and from their chosen location. Most allow these choices to be made on a daily basis so students don't even have to commit to being in the same place at the same time for learning to occur.
However, students who do undertake distance or online learning may be left feeling a bit isolated from fellow students and unsure of when or where to turn for help so confident students and those who know that they are highly motivated tend to do well with these types of courses.
Qualifications
Mature students usually know why they are returning to education and how they want to use this education in their future, so finding out what kind of qualification is given at the end of a particular course is imperative. Work-related qualifications such as BTECs and OCR Nationals are often known as vocational qualifications and they assure employers that the holders have passed accepted assessments which prove certain levels of knowledge and skills.
Foundation degrees assess students as pass or fail on a combination of assignments stressing both academic studies and workplace learning. Higher National Certificates (HCNs) and Higher National Degrees (HNDs) are higher vocational qualifications. National Vocational Qualifications (NVQs) are recognised qualifications within certain industries. Bachelors degrees, also known as "ordinary" or "first" degrees, are awarded by universities for academic studies.
Postgraduate degrees, including certificates, diplomas, masters degrees and doctorates all recognised higher education achievements, some carried out by research rather than progression through classes. With so many different qualifications available, mature students must narrow down which is best for them before embarking on a course of study.
Today there are many study options for mature students. Full time, part time and flexible study, distance and online learning and a wide variety of qualifications are all possibilities for those returning to education.
You might also like...