Finding Childcare as a Mature Student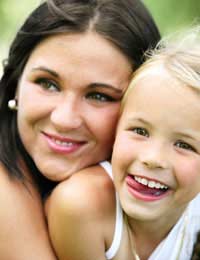 Many prospective mature students worry that they will be unable to return to education because they won't have proper childcare for the amount of time they need to attend classes, complete coursework and study. But mature students who begin planning well in advance of their return to education will have many options to explore.
Tapping family and friends for childcare, university provided childcare, university financial aid for childcare, private childcare and community childcare programmes are all possibilities that prospective mature students should look into.
Childcare from Family and Friends
Some mature students find that family and friends are willing to step in and provide childcare on a flexible basis. This could be an option for students who have minimal class requirements and therefore only need to be on campus a few times a week. However, mature students should remember that doing coursework and studying at home is not always a good idea when there are children to watch as well, so they might want to also block out some time to devote to their lessons outside of their course schedules.
Once they have discovered the exact times they need childcare mature students can call around and ask family and friends if they can cover these periods for the duration of the course. Of course courses may change with each term, so mature students should also enquire about family and friends' future availability if there is the possibility that they'll need to re-work their entire schedule at the start of each term.
University Provided Childcare
Many universities have on-campus childcare available to students, but most university nurseries require enrolment or registration rather than simply providing a drop-off, on-demand service. It is customary for university provided childcare to charge students for their children's places rather than provide a free service, but students are usually offered a discounted rate. Advantages of university provided childcare include only one commute for parents, discounted rates, qualified staff and the provision of snacks and meals. Unfortunately, spaces may be limited in these programmes and even discounted fees may still seem steep to parents who have given up or reduced employment in order to study.
University Financial Aid for Childcare
Whether or not a university provides childcare options for nurseries, most will have some funds that can be used on a discretionary basis to help students meet their financial obligations. For mature students, using grants or other funds for childcare often comes within the definition of these discretionary funds so mature students should always enquire at student funding offices or offices of mature students for further information on financial aid that could be forthcoming from the university. These offices will likely also be able to provide details of local authority schemes or grants for which they could qualify to access funds for childcare.
Private Childcare
Some mature students may prefer to have their children cared for privately while they are in class or working. This may be beneficial for parents who will continue to work while returning to education and therefore find that having one carer to look after their children is easier to schedule. Childminders, nurseries, playgroups, pre-schools, nannies and au pairs may all be childcare options for mature students to investigate, though such private services may carry a higher price-tag. However, mature students shouldn't hesitate to ask about discounted fees since they will, after all, be students again when employing these services.
Community Childcare Programmes
Depending on the age of a mature student's children there may also be local community programmes that could offer childcare. After school activities, homework clubs, holiday playgroups, holiday camps and even after school clubs and teams could all provide children with supervision while parents are at class. Local authorities and schools tend to have details of offerings for children, and local resources like libraries and community centres may also carry advertisements for such programmes.
Finding childcare as a mature student may seem impossible, but once students realise the many options available they will likely find a perfect fit for their schedules and their families. Childcare from family and friends, university provided childcare, university funding for childcare, private childcare and community childcare programmes may all be options for mature students.
You might also like...