Mature Students and Distance Learning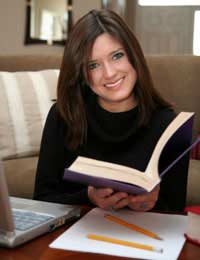 Distance learning is a method of teaching and learning that allows students to complete their education while at a different location from the instructor. In the past distance learning was carried out in a similar format to classroom learning, by using books and papers, but today most distance learning occurs with the help of technology.
Many mature students become interested in distance learning as it allows them to continue their education with minimal interruptions to their everyday lives. Mature students who are considering engaging in distance learning should think about the benefits and challenges of this style, as well as the equipment they will need and the personal qualities that help students make a success of their courses. Those who want to move ahead with distance learning courses have many options.
Distance Learning: The Benefits
Mature students may find many benefits to the distance learning model. They are able to complete their courses on their own time, in locations of their own choosing, rather than having to commit and commute to a centralised location for classes. Due to this ability to study from home, mature students may also find that they can look at studying with a wider variety of educational institutions since they don't have to worry about actually attending a particular campus.
Distance learning also allows mature students to explore a wide variety of subjects and thus helps to encourage lifelong learning. Savings on transportation and accommodation also mean that mature students may pay less for their education and can fit their studies in around their full-time jobs and family commitments. Also, using technology to complete distance learning courses helps mature students hone their practical skills and add these skills, and their educational qualifications, to their CVs.
Distance Learning: The Challenges
Distance learning is not for everyone. Some students find studying on their own to be isolating, and may become anxious about their coursework as they feel they have limited contact with other students and instructors. Other students may feel that they have limited resources for their coursework and therefore don't get the same privileges (for example, access to an academic library) as students who do not use distance learning.
Still others may worry that the tutors for distance learning courses are not of the same standard as tutors on courses offered in classrooms and lecture halls, and others may wonder if the feedback they receive on their distance learning coursework is less than that given to students who physically attend a course. Mature students considering distance learning will have to think about their concerns and consider how each distance learning course will address them.
Distance Learning: The Equipment
Technology plays a large role in today's distance learning courses, so mature students should check that they have everything they need, and feel comfortable with each piece of technology, before embarking on a course. A computer and Internet connection are usually the most basic pieces of technology used in distance learning today.
Email, email loops, online forums, dedicated software packages and streaming audio and videos may also be used in distance learning courses. Telephone, video conferencing, CDs, DVDs, videos and tapes may also be employed. Mature students should also check that the technology they have will be compatible with the needs of their courses and if there is any technology that must match specs set forth by the course.
Distance Learning: The Students
Distance learning students must be self-motivated. Most mature students have made the decision to return to education themselves and thus are highly motivated to do well and learn. Mature students also tend to be well-organised, have good time management skills and know how to prioritise their tasks, all qualities necessary for successful completion of distance learning. Mature students who worry that they are not well-suited to studying independently via distance learning should consider contacting relevant educational institutions for further hints and tips on what makes a good distance learner.
Distance Learning: The Options
Mature students interested in distance learning having many options in the United Kingdom. The Open University (www.open.ac.uk) uses a distance learning model for certificate and degree courses, and the International Centre for Distance Learning (icdl.open.ac.uk) hosts a database of UK courses taught via distance learning. Individual schools and universities also offer distance learning courses. However, mature students should always check on the awarding body for a degree or certificate as there are many online courses that do not actually culminate in a recognised qualification.
Distance learning can be a great way for mature students to study on their own time. Mature students interested in distance learning should consider the benefits and challenges of this educational model, as well as the equipment they would need for each courses, their own personal qualities regarding studying independently and their options for pursuing an education via distance learning.
You might also like...
@Charleydj - The NUS (National Union of Students) is a voluntary membership organisation which is a confederation of 600 students' unions, amounting to more than 95 per cent of all higher and further education unions in the UK. I can't say whether your institution is listed or whether you qualify, but I think the best thing for you do do is apply direct via the link
here
. I hope this helps.
Studentastic
- 7-Nov-14 @ 10:33 AM
Hi I am working and studying a level 3 advanced word ecdl course at llandrillo college Rhyl and will continue on to level 3 advanced power point ecdl course in 2015. I also have just completed the online: intro to journalism course with futurelearn (part of open university) taught by professors at Strathclyde university I have begun a start writing fiction course with futurelearn, taught by open university itself. I wondered if I qualify for a nus or nus extra card? Each of the courses is 3 hours a week
charleydj
- 6-Nov-14 @ 3:10 PM
Hi, I am studying an Access course with the DLC. I was wondering if I would be entitled to an NUS card as I am studying (and working ,and full time mummy etc) Many Thanks Linda Harris
mum to 4
- 29-Jun-13 @ 3:06 PM