The Open University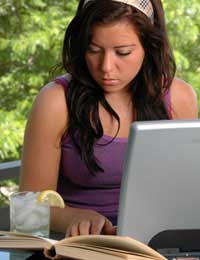 Many of the students who stay at home during university do so for monetary reasons and some of these students are unable to cut back to even part time work in order to become full time students. Distance learning, or learning which takes place at home without the accompaniment of a teacher or other students physically present, is very popular with students who can not abandon their jobs or schedules in order to get to a university campus on a regular basis. Unfortunately, some of the programmes out there calling themselves distance learning are little more than for-profit scams and it can be confusing to try to wade through all of the options.
In the United Kingdom, The Open University has come to the rescue of any student who would like to return to higher education but would prefer to do so through distance learning.
The Open University: Facts and Figures
The Open University is a university that was founded, and still operates, strictly for distance learners. Sometimes it is referred to as an "invisible" university because there is no single physical structure that acts as a traditional centre of teaching and learning. At the moment it is the UK's largest university with over 150,000 undergraduate students enrolled in courses, and 30,000 students taking postgraduate courses. There are also over 20,000 students outside of the United Kingdom studying with the Open University. Most of these students study part time, and many of them are even sponsored by their employers - which is proof that a degree or qualification from the Open University is recognised and respected in the job market.
Studying with the Open University
Most of the studying done with the Open University is done on the student's own time, from the student's own home. When a student registers for a course, a package of materials is sent out to support his or her learning. Many of the courses utilise books and handouts, audio and video cassettes, computer software, websites and more. As students work through the materials, they submit assignments and sit an examination for the course at one of the Open University's regional centres. These centres may also be the site of tutorials, and some courses also have a day school or residential component in for which the students will travel to another location for further learning. When students require support, they can turn to the course tutor, access the Open University Library, logon for online support and/or the Open University's online conferencing system.
Programmes of Study at the Open University
The Open University offers over 600 courses across undergraduate, postgraduate and research programmes. Courses at the Open University can be taken just for fun or with a view towards finishing a certificate, diploma or degree. General subject areas include business, education, humanities, information technology, law, social sciences and more. Students hoping to become teachers can also study with the Open University through the flexible PCCE (secondary only) route, though such students will want to contact the Open University directly to discuss their specific situations. All courses start, and run, throughout the year.
The Open University is a wonderful, flexible option for students who are unable to commit to full time student life at a traditional university.
You might also like...