Fees for Commuter Students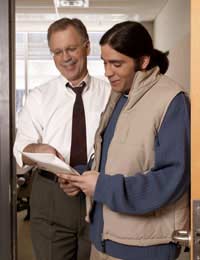 Even mentioning the phrase "student fees" can cause quite a controversy these days. With the cost of attending university at an all time high, more UK students than ever before are choosing to live at home while attending university. These commuting students hope to limit the cost of their education, and their resulting personal debt, but fees for commuter students do still exist. In fact, depending on which university a student attends, they may be saving little money on their actual university fees.
University Fees in the UK
University fees in the UK will differ from institution to institution as well as depending on whether the university is in Scotland, Wales, England or Northern Ireland. At Welsh institutions, students living in Wales can only be charged up to £1,200 per year for full time undergraduate courses. At Scottish universities such student living in Scotland technically pay nothing up front but upon graduation pay into an endowment at the equivalent rate of £2,000. In England and Northern Ireland, students attending university may pay up to £3,000 per year. Depending on their circumstances students may qualify for government assistance or university bursaries, and student loans are almost always an option as well.
In addition to tuition fees at university, a number of other charges are asked of students too. Many students will be asked to pay for:
Activities and recreation
Labs and lab equipment
Technology
Speakers
Fitness centres and classes
Required laptops and course resources
Fees for Commuting Students
While commuting students are relieved of the cost of room and board, several smaller fees may sneak up on them. Generally fees specific to commuting students will address their transportation and the convenience and safety of their transport, making them necessary though perhaps not palatable. Commuting students should check with their university to find out if they will be required to pay for:
Parking permits
Parking spaces
Shuttle buses or vans from car parks to university buildings
Shuttle buses or vans from university grounds to public/private transport locations
Bike racks and/or bike locks
Lockers for storing personal effects while on campus
Lounge and/or kitchen for personal use while on campus
Security and/or CCTV cameras for car parks and bike racks
A dedicated Commuter Services department and staff
Methods of Payment for Student Fees
Depending on a student's circumstances, government assistance, local authority assistance, bursaries and grants from the university as well as athletic or academic scholarships are all possibilities for paying student fees. If none of these options are available to students, student loans from banks and private credit institutions may also be available. Students should investigate assistance for their fees as soon as possible to avoid disappointment later when it may be too late.
Student fees in the UK are a controversial topic, but unfortunately they remain a reality for all third level students. Commuting students may save on some fees by living at home during university, but they should be wary of fees implemented specifically due to their means of transport. Commuter student fees will probably never rival the money saved by living at home, but commuting students must make sure that they can cover them nonetheless. Investigating payment options as soon as possible will save commuting students from a few nasty surprises later.
You might also like...
Hello, Ive applied to study at university starting in September. I'll be living at home so will have to travel 30/40 minutes to campus (I plan to drive) I'm expected to pay board with my parent as I always have, however I won't be working and I am worried the student loan I have applied for won't cover my travel expenses, living costs and supplies while there! Is there something else I should/could apply for?
Beth
- 5-Jun-18 @ 11:04 AM