Online University Courses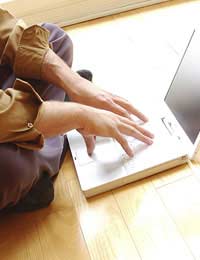 Most students commuting to university would be delighted by the chance to study at home and cut out their daily commutes. For these students good news is at hand! Through the magic of the Internet, many universities now offer online courses and distance learning courses which can be completed in the student's own time, at the student's own pace and from whichever location the student chooses. There are both advantages and disadvantages to these courses for commuting students, but the flexibility of these options can not be questioned.
Advantages of Online Courses at University
Every student offered the opportunity to take an online or distance learning course faces the challenge of deciding if this is the best type of instruction for his or her learning and lifestyle. Advantages to online and distance learning courses include:
Flexibility
Online and distance learning courses can be completed in the student's own time, pace and setting. This is particularly important for students juggling full time work and/or family commitments with their studies.
Contact with faculty
Electronic contact with faculty and teaching assistants is guaranteed with online and distance learning courses. Waiting for an instructor's office hours becomes a thing of the past.
Access to research materials
Students taking online and distance learning courses are guaranteed access to the university library and/or any online resources (databases, spreadsheets, etc.) needed to complete their coursework.
VarietyMost courses, with the exception of those requiring lab hours or physical movement (drama and dance classes), can be taken online or by distance learning.
Lower tuition
Online courses use fewer resources (a classroom, heating, electricity, etc.) and therefore usually cost less money per credit than courses taught on university campuses.
Disadvantages of Online Courses at University
Unfortunately for all of the benefits of online courses to commuting students, a few drawbacks exist as well. Disadvantages that deter many students from taking online or distance learning classes include:
The tendency to procrastinate
Students have no one to blame but themselves, but without an instructor keeping tabs on them or other students counting on them, many students procrastinate with their online or distance learning coursework.
Isolation
Completing an entire course on one's own does not appeal to many students.
Responsibility
Students must take responsibility for all aspects of their online and distance learning course and budget their time (and resources) wisely to complete all assessments in a satisfactory manner. Failing to leave extra time in case they have questions or need limited resources can be the downfall of many online and distance learning students.
Lack of person-to-person instruction
Without an instructor or teaching assistant making sure that they are on schedule, many online and distance learning students fail to learn subjects in the most efficient manner.
Extra time required
Many commuting students find it hard to believe, but extra time is often required for online and distance learning courses. To begin with, all instruction is text based so students must read everything. Next, if questions do arise students must manually type their queries until they are satisfied with the answers. Finally, finishing all assessments should take no longer for online and distance learning students, but for students who rarely use a library or campus resources navigating these areas may be time consuming.
Online and distance learning courses at university bring commuting students both advantages and disadvantages. Commuting students must weigh up all of their options before deciding which mode of instruction suits their lifestyles best.
You might also like...