Why Join a Club?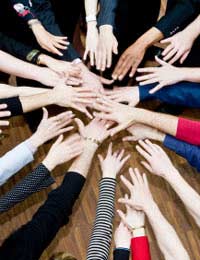 University is a place where you have the opportunity to learn and progress in your chosen subject area, while under the tuition and guidance of experts in the field. That alone makes the student life more than worthwhile, but even better, a university is a breeding ground for life-long friendships. However, for many freshers, the process of getting to know like-minded people turns out to be harder than expected. That's why it's often important for new students to join a club or society.
Events
Although it's likely that students will make several friends on their course, and in their halls of residence, by far the most common way for people to bond in a university environment is through the many clubs and societies that are set up by students and supported by the union. This is because these clubs offer specific activities based around common interests – like religion, sport, culture or ethnicity – creating an atmosphere of social conviviality and openness. Many clubs start each term and each year with particularly social events, allowing new students to mingle with more seasoned participants. Many societies meet every week in an official sense, perhaps to delegate jobs or select teams, but this generally leads to plenty of opportunities for socialising and conversation.
Discounts and Freebies
Students will often find that societies and clubs have access to many benefits that would not be available to non-members. For example, the university newspaper might have a music section which receives regular promotional pre-releases from generous record companies; in return, the labels gain the free publicity from a review which may be read by thousands of students. As a music writer a student may have access to free gig tickets, or they even have the opportunity to interview their idols. Similarly, sports clubs may have access to university-owned facilities, or they may rent out high quality professional venues at much cheaper student prices. Clubs may also be able to arrange cheap student travel to holiday destinations for society-related breaks or competitions.
Performances
One benefit of clubs and societies that is often overlooked is the possibility that students will be able to hone their performance skills in a live environment. Many music societies have live open mic events, where anyone can get up and play a couple of songs, and the audiences are usually generous in their applause. Drama clubs and societies are often given sizeable Union allowances to put on large productions in local theatres, while budding stand-up comics will find that comedy societies are often devoted to providing platforms for new talent. Even creative writers may find they have the opportunity to take part in public readings of their work. In all these cases, it is sometimes possible that industry representatives will be present, and indeed, many famous entertainers have been spotted while still performing at union events. Additionally, many unions often book established entertainers to come and perform, and as the university venues tend to be on the small side, you may have the chance to mingle with some genuine stars.
Friendship
However, to summarise, the most important element of joining a club or a society is to make friends with other students. Most people who go to university are hopeful of finding a social network in which they are comfortable and able to express themselves, and this is still one of the best ways to establish oneself in the student milieu. Although some societies ask for small contributions when you become a member, these are rarely extortionate, and arere-compensated by the wealth of benefits already described here. Joining a club is more than worth it!
You might also like...