Types of Clubs and Societies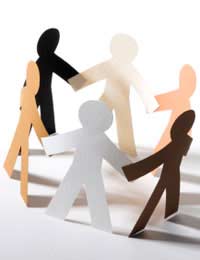 So you've enrolled at your new university, met your course mates, sat through a few introductory lectures and settled into your new room. Student life so far has merely been a long process of applications, interviews and red tape. Now it's a question of making the most of that freshers' fair you've heard so much about by joining some clubs and societies!
Sports Clubs
By far the most common type of student society at most universities is the sports society. However, that description barely scratches the surface of the variety and scope on offer to the undergraduate aspiring to become the next Eric Liddell, Michael Atherton, or a particularly well-educated professional footballer. Most sports societies will have several teams, so even if your skills aren't quite as silky as you thought, you'll still find a niche for yourself.
Sports societies aren't just confined to the things you see on the television, though. You may well be able to take up any number of minority sports and games: why not try the cut and thrust of Fencing, or the subtle intensity of Poker? Many sports societies are able to make use of university-owned training facilities, and in some cases there'll also be impressive stadiums at which matches are held. Likewise, clubs devoted to winter sports such as Skiing or Snowboarding are often capable of organising expeditions to foreign climes at favourable student rates.
Arts & Culture
These days, universities are as multicultural as the rest of society, if not more so. This is reflected by the number of different cultural societies a typical student is likely to encounter. In addition to overtly religious, well-established societies, such as the Christian Union, the Jewish Society, and the Islamic Society, there are often myriad other clubs devoted to particular cultures or countries which attempt to provide an insight into the heritage of other nations or areas of the world. For example, there might be a Latin American or a Caribbean society which encompasses a wide range of events, including authentic regional food, music and discussion.
In addition to these ethnically-based clubs and societies, there are also many opportunities for the aspiring arts enthusiast to get involved. If you're a classical music lover or player, you may want to join the university Orchestra; competition for a place can be fierce, but there are often cheap tickets to important events up for grabs. Many societies will hold weekly meetings or shows which highlight the finest local talent, such as open mic nights at the Music Society, or Comedy Society showcases.
Media and Politics
A student's life isn't quite complete unless they get involved in the important issues which surround and affect them and their society. Historically, universities have been at the centre of many political and ethical debates, and the attitudes of students have often been a harbinger of change. It will come as no surprise, then, that there are clubs and societies devoted to politics at many unions. At some universities there will be societies devoted to the major political parties, but equally likely is the club campaigning on behalf of an international movement such as Amnesty International or Friends of the Earth. Many future politicians have started out in their university's Debating Society, honing their abilities to persuade, spin and counter-attack on any number of subjects.
On a similar note, there will often be many opportunities for the aspiring media mogul to make their voice heard in the world of student journalism, either by writing in one of the university publications or by hosting a radio show. Many university radio stations have the opportunity to go over to FM bandwidth for certain amounts of the year, giving DJs the chance to build a reputation outside of the student bubble. University newspapers also give students valuable experience by teaching them the need for organisation, creativity and accuracy in their journalism.
Bizarre
Of course, in an atmosphere characterised by youth, a certain amount of immaturity, and often unorthodox intelligence, there are often clubs and societies which cater for more singular tastes. Do you feel lifeless and incomplete without the opportunity to build human pyramids next to famous landmarks? Then you may just have the chance to fulfil your needs at university. However, if the Union currently does not provide the right society for you, there is always the option of starting your own – though you may need to convince a few fellow students to join you.
Perhaps the most important thing to remember as a new student is that it doesn't hurt to experiment occasionally. Clubs and societies may well become the bedrock of your new social network, and they represent a great opportunity to make a mark at your university.
You might also like...