Looking for a Job Overseas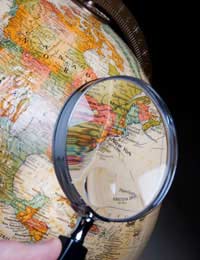 Many UK students are now looking for a job overseas as those at home become scarce, the competition for each becomes intense and wages and benefits become substantially less than offered in the past. If you are considering looking overseas for work then make an effort to become more familiar with searching for such work, applying for jobs overseas, preparing to live abroad and deciding on an international gap year if this might be an acceptable option.
Searching for Work Overseas
Once you've decided to look for a job overseas you'll need to get serious about where and how you search for work. Immediately activate your network of contacts, including family friends, fellow students, professors and tutors, past employers and organisations with which you have interned or volunteered. Visit your university career services office, ask around within your department and use recommended online sites which allow you to search for particular jobs in particular locations. Also consider post-graduate studies or fellowships in foreign locations as these might include opportunities to teach or tutor, if that would fit into your career path.
Applying for Jobs Overseas
Once you've located potential jobs overseas you'll need to become familiar with the application process in that location. Frequenting expat forums, getting in touch with local contacts and erring on the side of formality are all good ideas. Think about:
If you will require a full CV or resume for the application.
If you will need to translate your cover letter and documents into a foreign language.
If you will need to show an academic transcript as part of your application.
Who you will ask to act as your references for this position, and how they can be contacted.
How you will be able to attend an interview, if called for one.
If you will need to learn a foreign language in order to interview and/or work abroad.
Preparing to Live Abroad
Very often the idea of living abroad and all that it will entail is pushed to the back of a student's mind when (s)he is confronted with the possibility of an interesting, well-paying position overseas. If you are serious about potentially moving abroad, think about all of the practicalities you will need to arrange to do so. Find out what your responsibilities for any student loans or other debts will be, what you will do with your possessions, how you will keep up with relationships and how you will make new friends and avoid homesickness in your new location. These may not seem like exciting preparations, but they may be vital to your success should you take a job overseas.
Deciding on an International Gap Year
For some students finding a job abroad will not be as easy as they hope. If you find yourself with a position waiting for you abroad you might think about taking an international gap year. Not only will you be able to travel, but you might be able to secure temporary or seasonal employment, or even an interesting volunteer position which will give you some experience and skills to bring back to your career at the end of the year. A variety of agencies devoted to placing students and new graduates on gap year programmes exist, and your university may even have recommendations for organisations with which they have good relationships.
Looking for a job overseas can often feel like a job in itself. Becoming more familiar with how to search for such a position, apply for a job overseas, prepare to live abroad and decide on a gap year should you find it hard to land a full-time job will all help you with your quest.
You might also like...