Ground Rules for Living at Home During University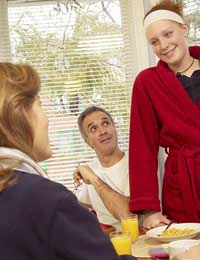 Living at home during university can have major advantages for students and their families, but it can also generate stress and confusion if ground rules are not established from the beginning. While it can be hard for students not to equate university with total freedom, and for parents to respect that their children are now capable adults, living at home doesn't have to mean a clash of wills every morning and evening. If your family is set to include a commuting university student, sit down and thrash out the ground rules before any major arguments arise. You'll be glad you did.
Respect
The first thing that all members of the family home should agree to when a child or sibling begins commuting to university is respect. Parents should respect that their child is growing older and can do for him or herself, siblings should respect that they no longer have a built in playmate or equal, and students should respect that they are now more than ever guests in their parents' home. Common courtesies should be observed by all members of the family, such as:
Calling if they are going to be late.
Asking if anyone needs anything while they are running errands.
Keeping noise levels low when others are working.
Pitching in to keep communal living areas neat and clean.
Calmly discussing disagreements rather than yelling and screaming.
Opening Hours
Thinking of the family home like a shop or restaurant may help everyone feel more comfortable with inviting guests over. Discuss the "opening hours," or the hours in which it is alright for family members to invite others over. These hours would obviously extend later for university students and adults than school students, but parents should make their wishes known so that students do not feel that they have been tricked or blindsided later. Many parents of university students institute hours such as:
No guests before 10 a.m.
No guests after 2 a.m.
No guests, at any time, who are obviously intoxicated.
No overnight guests of the opposite sex.
No large group parties at any time.
No curfew on university students' activities – though a call before parents retire for the evening would be courteous.
Money Matters
Many students choose to live at home during university to avoid spending money on accommodation costs or going into debt for their fees. This, however, does not necessarily mean that students should be freeloading off of their parents. Parents are well within their rights to charge modest fees (usually in a monthly lump sum) for:
Rent.
Utilities used.
Groceries consumed.
Laundry and ironing services.
Having a student living at home during university can be a time of change for everyone involved. Suddenly the family home now has multiple adults, and the line between independent student and dependent child can easily be blurred. Working out ground rules regarding respect, opening/visiting hours and monetary contributions early on will stop everyone involved from getting the wrong idea about their living situation. Students should never feel that they are under lock and key and family members should never feel that they are being taken advantage of. Setting ground rules to find just the right mix will benefit everyone in the long run.
STUDENTASTIC IS FOR SALE.
This website is for sale [more info].
You might also like...