Advantages of Living at Home During University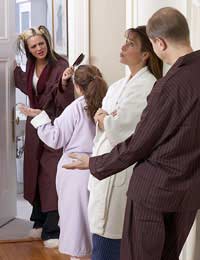 Many students dream of stocking up and shipping out for life at university, even if it comes complete with a grotty, cold flat that practically forces them to the pub each evening. Or maybe that should be especially if it comes with a grotty, cold flat that practically forces them to the pub each evening? Yet for a significant number of UK students this is hardly the case. A 2006 NatWest Student Money Matters survey found that 20%, or 1 in 5, university students now live at home during their studies and that this has been a steadily rising trend. Are you worried about finding, and inhabiting, your own grotty, cold flat? Before you go on the hunt consider all of the advantages of living at home during university!
Financial Advantages
Living at home during university comes with major financial savings. When you aren't paying accommodation costs you should be responsible enough to put most of these savings away so that you can pay your university fees, pay off your student debt or have a nice cushion to do with what you will after graduation. Most students who live at home during university save (at least a little) on:
Rent and deposit.
Renters insurance.
Utility costs.
Parking costs.
Setting up and using a telephone and broadband line.
Buying and delivering furniture.
Investing in electronic equipment.
Kitting out a kitchen with appliances, dishes and utensils.
Sheets and towels.
Groceries and meals.
Convenience Advantages
Not only does living at home during university generate financial savings, but it frees up a lot of spare time for students as well. Students living on their own must organise their entire lives by themselves – including travel plans to see family and friends that can involve quite a bit of detail – but students living at home have a built in support system to help them out. Living at home during university often means that students have someone who will, at least sometimes:
Do the grocery shopping for them.
Prepare meals for them.
Help them with their laundry and ironing.
Post letters as needed.
Drop off items such as library books, rented DVDs, dry cleaning and more.
Be available to meet deliveries or repair people.
Take messages from important phone calls.
Keep a tidy living space – at least in communal areas.
Emotional Advantages
The benefits of a built in support system extend far beyond the material. A September, 2003 study reported in NeuroPsychiatry Reviews states that first year university students in America rated significantly higher mental health scores if they lived in their family home. Though this rating did not continue into second year, a host of emotional advantages will follow students living at home throughout their university careers. Consider that living at home during university:
Provides strong relationships with people who care about you.
Requires no adjustments to your personal living quarters.
Takes away the anxiety of being assigned/living with strange flatmates.
Offers multiple people who will listen to you when you need to vent.
Supplies a host of differing viewpoints to any problem you may discuss.
Gives you a haven away from the stresses of university life.
Living at home during university may not be the stuff of every UK secondary students' dreams, but the reality is that a significant number of university students will remain in the family home while they study. Living at home during university offers students a host of financial, convenience and emotional advantages. If you find yourself staring at grotty flat after grotty flat, or facing a huge bill for the "luxury" of living in a hall of residence, consider cutting your losses – and your stress – and think about living at home during university.
STUDENTASTIC IS FOR SALE.
This website is for sale [more info].
You might also like...
THE BEST WEBSITE ABOUT BUDGETING
Sultan_Mirza
- 30-Apr-12 @ 6:37 PM
this was so helpful because i am a student in a secondary school and so this was the best website for me to complete my work about university budgeting.
DON
- 30-Apr-12 @ 6:35 PM